Nestled in the northwest corner of Fairfax County, Reston, Virginia is regularly recognized as one of the top places to raise a family in the United States. Located about 40 minutes outside of Washington, D.C., Reston gives commuters a suburban alternative to D.C. without needing to venture into Loudoun County. Reston features more than 25 parks, 50 miles of trails and 1,350 acres of open space.
If you're new to the area (or if you've lived here your whole life), check out our list of top places to visit in Reston, Virginia.
Nature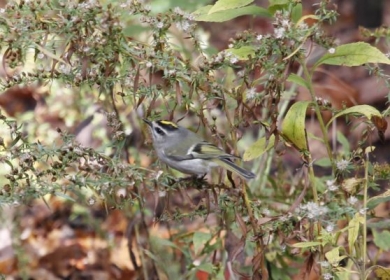 Named after Reston's first Nature Center Director, Vernon J. Walker, the Walker Nature Center Sanctuary is located on 72 acres of woodlands. The center promotes a healthy coexistence of nature and people and provides a variety of resources, programs, and facilities to the public.
Cool fact: At the Walker Nature Center, you'll find a fire ring: the perfect spot to roast marshmallows and stargaze.
Lake Fairfax Park is the quintessential nature retreat for suburban families in Reston. Located on almost 500 acres, the park includes a carousel, athletic fields, picnic areas, campgrounds, hiking trails, and a skate park. The carousel, lake boat rentals, and water park open Memorial Day weekend, while other amenities remain open year-round.
Cool fact: Fishing is permitted on the 20-acre Lake Fairfax, however, Virginia State fishing licenses are required.
Created by an act of Congress in 1879, the U.S. Geological Survey provides reliable scientific information about the Earth, natural disasters, and natural resources. Headquartered in Reston, USGS offers two walking trails to visitors, featuring indigenous trees and large rock specimens.
Cool fact: The U.S. Geological Survey is the nation's largest water, earth, and biological science and civilian mapping agency. As such, USGS collects, monitors, and analyzes science about national resource conditions and issues.
Activities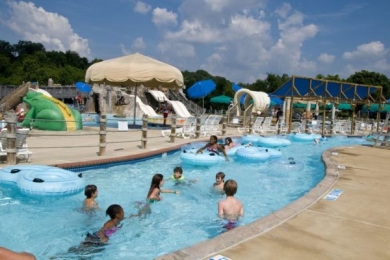 If you woke up this morning inspired to try something new, check out Surf Reston. Surf Reston is dedicated to teaching people stand up paddleboarding on calm water before attempting more challenging waterways. All of the instructors at Surf Reston are certified by the American Canoe Association and the World Paddle Association.
Cool fact: Surf Reston hosts weekly sessions on Thursday evenings and weekends at Lake Anne and every other Wednesday at Lake Audubon.
Water Mine
The Water Mine Family Swimmin' Hole offers fun for the whole family. Features of the waterpark include slides at Pete's Peak and Prospectors Plummet, a log walk obstacle course at Box Canyon Crossing and the Rattlesnake Lazy River.
Cool fact: The Water Mine opens Memorial Day weekend. Season passes for the family start at $156. Single day passes start at $11.25.
Food and drink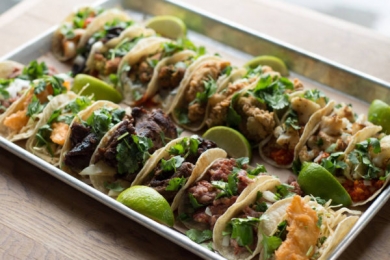 Jackson's Mighty Fine Food and Lucky Lounge is a staple in Reston Town Center, featuring an Americana menu with a twist. Classics like a Wood Grilled Filet Mignon and Ozzie's Brick Chicken strangely and precisely balance Jackson's sushi offerings.
Cool fact: Jackson's was named in honor of acclaimed chef Bill Jackson, who had ALS and died shortly before Jackson's opened. There is original art inside the restaurant that honors the chef including a mural that shows the chef with the characters of "Little Rascals" (he was a fan).
The owners at Pitango Gelato are self-described "control freaks" who wanted to give locals an alternative to overly processed frozen treats. They make their gelato with grass-feed, organic milk, whole fresh fruit, and the highest quality nuts and chocolate.
Cool fact: After spending his childhood summers in Trieste, Italy, Noah Dan opened Pitango Gelato in 2006 to bring his love of authentic Italian gelato Stateside.
Metropolitan D.C. has its fair share of excellent taco bars, but bartaco in Reston might just take the cake. Inspired by South American beach culture, bartaco serves upscale street food with a coastal vibe and features a menu of 13 different tacos.
Cool fact: The sesame rib eye and pork belly tacos landed bartaco on Buzzfeed as one of the best 19 taco restaurants in the United States.
One might describe Red's Table as rustic-meets-contemporary in an attempt to pay homage to homemade classics while carefully modernizing the restaurant's atmosphere. Located on Lake Thoreau, with ample outdoor seating, Red's Table offers a seafood-centric menu paired with soups and sandwiches.
Cool fact: Trio of brothers Matthew, Patrick, and Ryan Tracy grew up in Reston and returned to their hometown to open Red's Table in 2015.
Located just off of Lake Anne, Lake Anne Coffee House is proud to support local coffee bean suppliers. The Coffee House features two coffee roasters: Vienna-based Caffe Amouri and Manassas-based Monument Coffee Roasters.
Cool fact: Lake Anne Coffee House has expanded its coffee operation into a wine bar. The wine menu changes frequently but often includes a Malbec, Chardonnay, and Pinot Noir.
Arts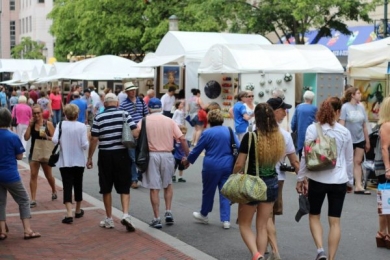 The Greater Reston Arts Center will host its 27th annual Northern Virginia Fine Arts Festival in 2018. More than 30,000 visitors stop by the festival each year to enjoy a wide variety of media including live performing arts.
Cool fact: The Northern Virginia Fine Arts Festival is free to the public. However, GRACE appreciates $5 donations per adult.