Tips and advice to make your residential move successful
What type of estimates do you provide?
JK Moving Services offers three options for estimating your move:
JK virtual self-survey: Customers can use Yembo, an Artificial Intelligence (AI)-supported technology that allows homeowners to conduct a survey of their homes themselves – when it's convenient to them.
JK virtual consultation: Homeowners can work with a Move Consultant directly to conduct a live visual survey of their home and receive an online move estimate.
JK in-home consultation: Customers can request an in-home consultation with a Move Consultant.
Read more about residential move estimates.
Will I get an itemized list of my possessions before they're loaded into the truck?
Yes. If you're moving long-distance or moving into storage, JK provides a complete list, which also notes the condition of every item.
Are you movers full-time employees?
Yes. We use full-time employees who have been background-checked, drug-tested, and trained in our own facilities.
Will I have the same crew on my move from start to finish?
For local moves in the greater Washington, DC area, yes. for long-distance and international moves, we'll work with AMSA– and FIDI/FAIM-certified suppliers. That way you're guaranteed great service from start to finish.
How will you protect my furniture and home during the move?
JK's fully trained crews pad furniture with durable stretch wrap that protects it while still letting the upholstery breathe. We also pad and protect critical areas such as carpets, floors, doors, woodwork, doorjambs, and banisters.
What happens if a truck breaks down or a driver calls in sick?
Don't worry. Another truck and/or trained crew will soon arrive, where and when they're needed.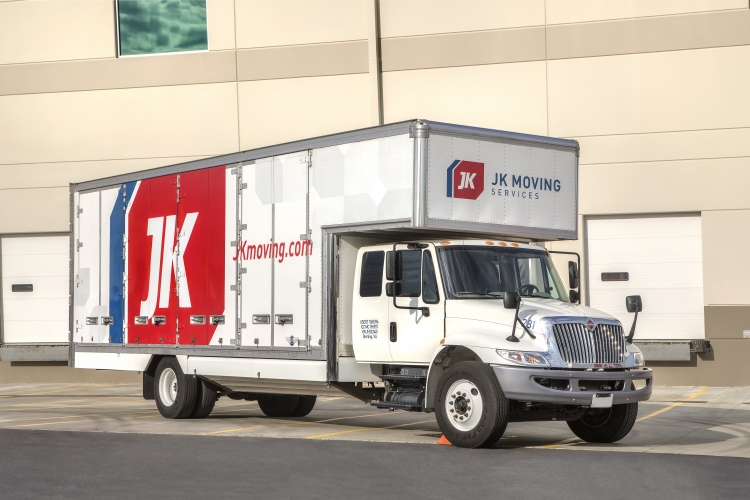 Are all of the moving trucks owned by the company?
Yes. We own and maintain our trucks in-house to ensure maximum performance and reduce the likelihood of breakdown or failure.
Where will you store my belongings?
For local moves in the greater Washington, DC area, we'll arrange for storage in our secure facilities in Maryland or Virginia. Outside of the Washington, DC area, we'll work with our qualified network of storage providers. Find out more about our storage facilities.
Are your moving practices sustainable?
Yes. From the reusable crates for our Commercial moves to our e-cycling practices and thousands of community connections for donations, JK aims at every step to make moving friendly for our planet as well as our customers. Read about JK's sustainable business practices.
Will my insurance cover my belongings during the move?
Most homeowner's policies do not cover household goods while they're in transit with a moving company. Protect yourself and find out about our valuation options. Find out about valuation coverage.