Community Impact
Sustainability
Working to make your move good for the planet and good for your peace of mind.
JK Moving is committed to sustainable, green moving practices, evident by the over 4.5 million pounds saved from landfills each year – that's more than the weight of at least 150 elephants.
How is this done? By deploying numerous strategies and processes that support sustainability, including: using plastic reusable crates; re-purposing inventory; and employing practices like Zero Waste, where all materials are recycled back into nature or the marketplace in a healthy and environmentally friendly way.
JK's BoxlessMove® is just one way we incorporate sustainability into our daily work. At our warehouses, we recycle paper, cardboard, and the wood from our crates, and we use a compactor and auger to reduce the volume of the materials we send to the landfill.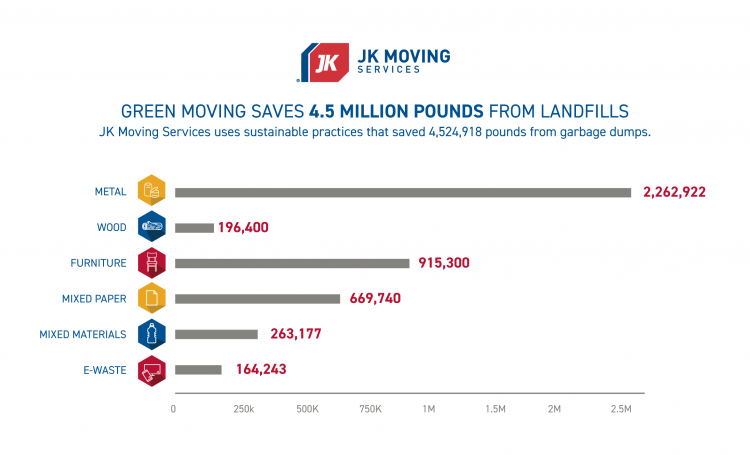 Beyond that, JK employs these green, sustainable moving tactics as standard protocol:
Moving blankets are made from recycled fabrics.
Driver and fuel tax reporting logs are paper-free.
Motion sensors help control lighting and conserve energy throughout our facilities.
Power units on our tractor trailers use environmentally-friendly generators to reduce idling.
Every truck purchased exceeds existing emissions standards, thanks to our industry partnerships with Volvo and Freightliner.
Antifreeze and forklift and vehicle batteries are reused.
Tires are retreaded to ensure optimal fuel use.
Engine oil is reused as a heating source at our maintenance facility.