Once a small, farming town with a single tavern, Leesburg, Virginia has a storied history dating back to the mid-18th century. The seat of beautiful Loudoun County, Leesburg is now a suburban community, which is home to many Washington, D.C. commuters. While new housing developments and business infrastructure has led to a shift in the population size, Leesburg's beauty and hometown feel are still very much alive.
If you're new to the area (or if you've lived here your whole life), check out our list of top places to visit in Leesburg, Virginia.
Historic Parks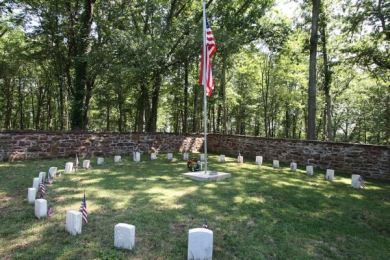 In 1798, George Carter inherited more than 3,000 acres of Leesburg farmland from his father, renaming the property "Oatlands" in 1801. Carter's family operated the farm as a plantation, enslaving 133 slaves, who constructed a federal-style mansion and a terraced garden, which still stand today. In 1903, Washingtonians William Corcoran Eustis and his wife, Edith Livingston Morton, purchased Oatlands as a country retreat. Then in 1964, the Eustis family donated Oatlands to the National Trust for Historic Preservation, who still recognizes Oatlands as a National Historic Site.
Cool fact: Unlike his son, George Carter's father Robert grew to view slavery as immoral. While Robert Carter never lived on the Oatlands Plantation, he did own more than 500 slaves before filing a Deed of Emancipation in 1791, the largest private emancipation in American history.
At different times in the 1900s, Morven Park's 1,000 acres were home to Westmoreland Davis and Thomas Swann, Jr., then governors of Virginia and Maryland, respectively. One hundred years later, Morven Park is a vast estate encompassing formal gardens, museums, hiking and riding trails, sports fields, and the Morven Park International Equestrian Center.
Cool fact: In 2007, there was buzz that the Queen of England might visit Morven Park to watch a polo match during a state visit. To commemorate the 400th anniversary of the first permanent English settlement in America at Jamestown, the polo match featured teams from the United States and Great Britain.
On the bank of the Potomac River, climbs a 300-foot bluff that served as a battlefield during the Civil War. The Battle of Ball's Bluff was an important loss for the Union, which formed a committee to address the incompetence of its officers directly following the battle. Today, Ball's Bluff Battlefield Regional Park and National Cemetery features the battlefield area and a United States National Cemetery.
Cool fact: The National Cemetery at Ball's Bluff Regional Park is the third smallest national cemetery in the United States. Of the 45 Union soldiers buried in the cemetery, only the identity of James Allen is known.
Formerly called Dodona Manor, The Marshall House was the home of U.S. General George C. Marshall. While living at The Marshall House, Marshall was recognized for distinguished service in both World Wars and earned the rank of Five-Star General. Known for the Marshall Plan – a post-war European recovery program – Marshall also served as Chief of Staff of the U.S. Army, Secretary of State, Secretary of Defense, and President of the American Red Cross all while living in Leesburg.
Cool fact: Following the successful architecture and implementation of the Marshall Plan, George C. Marshall became the first professional solider to be awarded the Nobel Peace Prize.
Food and drink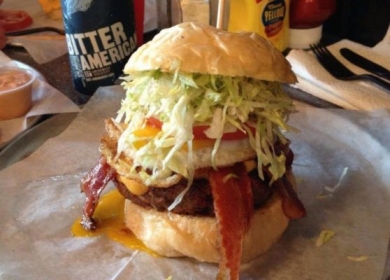 If eating food from a gas station is on your bucket list (not sure why it would be, but just in case), check out The Thai Pan in Leesburg. Much like Taco Bar in Gaithersburg, The Thai Pan shares a parking lot with a gas station. However "Gas Station Thai" goes one step further than "Gas Station Tacos" in that a door inside actually joins The Thai Pan and the gas station convenience store.
Cool fact: If you're new to the Thai food scene, don't let the exterior of The Thai Pan dissuade you from giving it a try. Regulars at Gas Station Thai rave about the pad-see-ew, drunken noodles, and yellow curry.
After Leesburg lost its beloved Shoppers Food Warehouse (read: its beloved Colossal Donut bakery), it was in need of a new doughnut shop. Enter B. Doughnut. Founded by a husband and wife duo in Baltimore, Maryland, B. Doughnut set-up shop in Leesburg in December 2016. B. Doughnut offers fresh, gourmet doughnuts ranging from a classic sugar doughnut to a savory lox and cream cheese bagel doughnut.
Cool fact: B. Doughnut is only open Thursday through Sunday, and they make a limited number of doughnuts. That combination leads to long lines and quick sell outs, so make sure to show up early to indulge.
Doug Fabbioli and company planted the first grapes at Fabbioli Cellars in the northernmost part of Leesburg in 2001. Since then, Fabbioli has turned his property into a must-visit winery in Loudoun County. Now, you can visit Fabbioli Cellars for a monthly wine tasting which includes seven wines paired with seven gourmet bites.
Cool fact: Since 2014, Fabbioli Cellars has earned four gold medals in the Virginia Wineries Association's Governor's Cup. Twice the winery placed in the top 12 to make the Governor's Cup Case, including a 2011 Tannat and a 2012 Cabernet Franc.
In a town of less than 50,000, one local burger joint reigns supreme. Melt Gourmet Cheeseburgers has won the Best of Loudoun readers' poll for the past six years. And it's not just the locals showing the love. TripAdvisor ranked Melt #7 on its list of America's 10 Most Delectable Burger Joints. To make its burgers, Melt pairs 100-percent natural Angus Beef with buns that are baked in-house, twice-a-day.
Cool fact: While burgers and fries are a classic combination, the onion rings at Melt Gourmet Cheeseburgers steal the show. For just $5.75, you will get a pizza plate covered in crispy onion rings, drizzled with a balsamic reduction.
Do you remember the Applebee's restaurant? Locals in Leesburg don't. Since 2002, Blue Ridge Grill has occupied and flourished in an old Applebee's storefront. Blue Ridge Grill – or BRG to locals – is a casual, yet elegant, family-friendly American grill. The menu features salads, seafood, pasta, and cheeseburgers.
Cool fact: It's hard to go wrong with anything on the menu or the specials at Blue Ridge Grill, but if you're in the mood for a taste of New Orleans, go for the King Street Creole Pasta. It's a fully-loaded pasta dinner with chicken, shrimp, and Andouille sausage.
Entertainment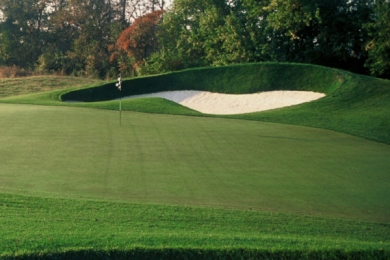 A movie theater turned live performance venue, the Tally Ho Theater is a long-time staple of downtown Leesburg. Opened in 1932, the Tally Ho is located adjacent to Leesburg Town Hall and transitioned from a movie theater to a venue for live comedy, theater, and music in the 2010s.
Cool fact: In 2015, the Tally Ho Theater opened Tally Ho Taco. The full-service taco restaurant is open on Tally Ho show nights from 6-10 p.m. Tally Ho Taco's menu is simple and features pork, beef, chicken, fish, and vegetarian tacos.
Voted the best public course in metropolitan D.C. by The Washington Times and a Top 10 course in the Mid-Atlantic by Golf Monthly, Raspberry Falls Golf & Hunt Club is Leesburg's premier golf course. Located just two miles off the Potomac River, the Raspberry Falls golf course mirrors traditional Scottish links featuring winding streams, bunkers, stone walls and rolling knolls.
Cool fact: The golf course at Raspberry Falls Golf & Hunt Club was designed by Gary Player, one of the best sand players in the history of golf. Needless to say, the course features many bunkers, including the feared "Satan's Foxhole" on No. 14.
The Town of Leesburg has hosted the Acoustic on the Green summer concert series every summer since 2004. Acoustic on the Green showcases local musicians on the town green most Saturday nights in the summer. The concert series is free and open to the public.
Cool fact: Making her Acoustic on the Green debut in 2015, Mary Ann Redmond has become a fan favorite. Redmond has won 24 Wammies (Washington Area Music Awards) and co-wrote a duet, Love Me Anyway, covered by Celine Dion and Johnny Hallyday.
What other cool places do you recommend visiting in Leesburg, Virginia? Let us know on Twitter or Facebook.