Are you planning on moving during the upcoming holiday seasons? This time of year can be hectic, and adding to your list the planning and managing of a move during the winter holidays can make it even busier. Here are some tips to make your move less stressful:
1. Start holiday shopping early. Don't wait to shop for gifts until the last minute, this may only add to your stress. And keep your gifts separate from the rest of your belongings so they'll be easy to locate after your move.
2. Move holiday gifts yourself. By moving your holiday gifts in the family car, you'll know exactly where they are, and they can be among the first items unpacked.
3. Send your holiday cards with your new address. An easy way to let people know you're moving is to send out your holiday greetings with a note about your move, using your new address on the return label.
4. Be prepared with your decorations. If you want to keep your holiday decorations up before you move, keep boxes set aside to quickly take them down and pack them as soon as you're ready. Keep all your holiday items separate and clearly labeled so they can be easily found and unpacked to decorate in your new home.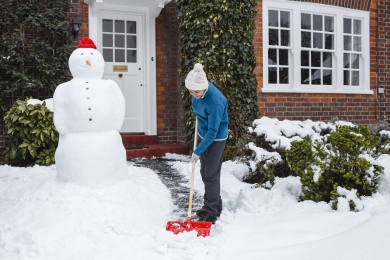 5. Don't pack your winter supplies with the rest of your belongings. Store items like ice scrapers, snow shovels, and winter weather gear in a special spot so they are readily available as needed.
6. Keep your driveway and walkways clear. Make sure your pathways are cleared and safe for you and your move crew – salting ahead of time might be a good idea.
7. Monitor weather reports. Track any winter weather heading your way (both to your current home and your new home) and take necessary steps to adjust your plans.
8. Confirm your utility services will be turned on the day you arrive at your new home. While it may seem like fun to enjoy a mug of hot chocolate sitting by the fireplace, electricity is essential for making your home warm and cozy.
9. Consider dining out (or delivering in). Bearing in mind how busy you will be and the stress you'll be under, take a break this year. Instead of a big, home-cooked family dinner, go out to a restaurant with the family or have dinner delivered in and enjoy the meal – without all the work.