The COVID-19 pandemic has dramatically changed the footprint, occupancy, and collaborative requirements of today's office. Occupancy is down, worker mobility up, and offices contain outdated furnishings unsuited to collaboration. Couple that with expiring commercial real estate leases, and many facilities managers are grappling with decommissioning all or a portion of their office space.
Why decommission your office?
Lease expiration: If your lease is expiring in the next year or two, it's time to consider office decommissioning. CRED IQ, which specializes in commercial real estate intelligence, estimates that 53 million square feet of office leases are scheduled to expire in 2023, with 60 million square feet expiring in 2024 and 2025. An expiring lease provides you the opportunity to assess current office configuration, furniture, equipment, and utilization with an eye towards office decommissioning and relocation.
Hybrid work: In addition, the pandemic has completely disrupted American work patterns. U.S. Census Bureau data reveal that the number of people working from home tripled from 5.7% (9 million people) in 2019 to 17.9% (27.6 million people) in 2021. As the pandemic waned, many employees returned to the office only part time.
"The rabbit can't be put back in the hat," says Nick Kloos, vice president, Commercial Division, JK Moving. "Hybrid work is here to stay."
"The challenge now is to configure your office to entice employees back, enable collaboration, accommodate fluctuating onsite numbers, and support comfortable plug-and-play work spaces," continues Kloos. "Simultaneously, you need to reduce your footprint and maximize occupancy."
Office modernization: Office decommissioning and relocation also allows you to modernize furnishings. With strategic thinking, organizations can reduce their space, secure a more flexible layout, and spend rent reductions on better furniture and technology.
"Companies can invest their rent savings to kick up the finish level, kick up the technology level, and kick up the new furniture they are installing to better support collaboration, hoteling, sit-to-stand workspaces, and beltline power," says Kloos. Such improvements help entice employees to the office, as modernized furnishings better match their home office.
How to begin office decommissioning
Understand what you have: The first step is to inventory the assets you have and decide what to keep. For example, you may have monitors on every desktop, but now employees use laptops. The monitors are obsolete and occupy valuable desktop space. Your office decommissioning partner can help you choose an appropriate furniture removal and equipment disposal strategy.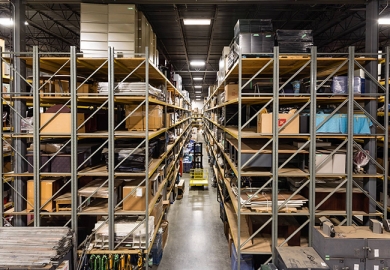 Store unique items: You may have specialty furnishings such as bespoke executive desks, original artwork, or upscale lobby furniture that may not fit in the new office. Rather than parting with these items, storing them gives you the opportunity to use them in the future. Select a warehouse with 24/7 security and one that can appropriately crate and wrap furnishing to prevent damage during storage. Barcode all items to facilitate pickup and delivery to a new location.
Warehousing and storage can also be useful if your new office isn't ready when your existing lease expires. You can store furnishing and office equipment that you'll be keeping, pivot to remote work, and have it moved again when construction on the new space is complete.
Assemble an integrated team: Facilities management, human resources, and information technology (IT) departments must collaborate in space use calculations, office decommissioning, and relocation decisions.
"All three must work together to determine the layout of the new space, how it should look to reflect the company's culture, and what is necessary to ensure connectivity, collaboration, ease of use, and mobility," explains Kloos.
IT systems must be reliable and up-to-date, and organizations need to solve conference room challenges. In addition, flexible-use or hoteling space with countertop power and data port access is required to accommodate swings in mid-week occupancy. An integrated team can improve decision-making surrounding these issues.
How to pick the right partner?
Turnkey provider: To simplify decommissioning, select a partner that offers multiple services. Choose a company that can coordinate all of your furniture disassembly and removal, IT decommissioning, cable abatement, archive-level document and data shredding, equipment storage and warehousing, electronic waste disposal, and office cleaning and restoration.
Single move coordinator: Similarly, if relocating, this point of contact can organize delivery and assembly of new furniture; installation of power, data, and telecom cabling; filing system installation and document transfer; conference room configuration; cubicle planning and installation, and more.
Sustainable asset disposition:  You also likely need to dispose of unwanted furniture and equipment. Some items can be donated, and others sold…like extra adjustable office chairs. Unfortunately, if furniture is old or made of laminated/pressed wood, it can't be recycled. To reduce the impact on landfills, JK sorts waste and uses an auger to crush it. The compressed waste occupies less space, and it is sought after by landfills for use as a methane gas suppression layer.
E-waste destruction and disposal: JK also uses a mobile hard drive shredder to securely destroy old computer drives. The process maintains chain of custody and provides certificates of destruction. JK's R2-certified recycling partner ensures that the shredded drives are responsibly recycled.
Expiring leases and evolving hybrid work models make it challenging to predict office capacity requirements. However, these challenges also present opportunities. Companies that embrace office decommissioning can downsize to a smaller footprint, create flexible workspaces suitable for collaboration, and use the savings to upgrade furnishing. JK Commercial Services can help.