Finding the right cardboard box for moving is a lot like finding the right home: It isn't a one-size-fits-all situation, and there are many options to choose from depending on your needs.
Cardboard moving boxes are able to hold significant amounts of weight per unit volume. The maximum weights range from around 20 pounds for standard cardboard boxes to 60–150 pounds or corrugated and double-walled boxes, with some corrugated triple-walled boxes carrying up to 300 pounds.
From fragile family heirlooms to bulky gadgets, here are some things to keep in mind to choose the right home-on-the-way-home for all of your most prized possessions.
How do I pack a cardboard box?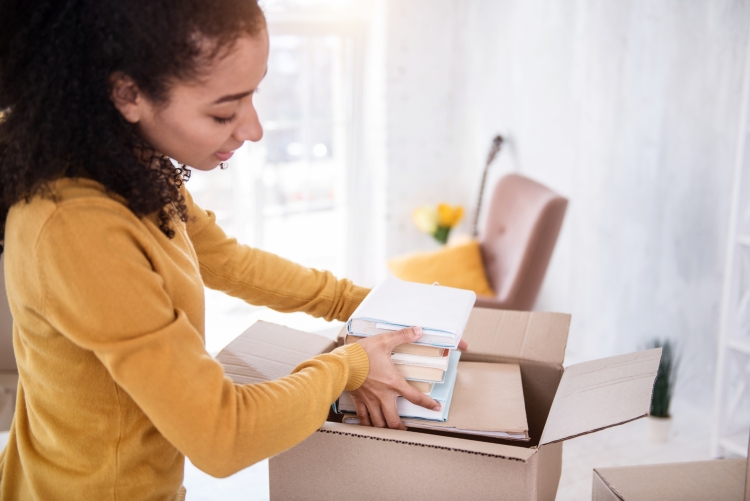 Here are some moving tips to avoid damage to your possessions:
1. Arrange items by weight and fragility
In general, heavy items should go on the bottom of the box so that it doesn't become tippy and so that heavier items don't crush lighter ones.
You may consider placing fragile items like holiday decorations on top of heavy, bulky items inside your moving boxes. While this can work, be aware that if the box is heavy, it is likely to be be placed on the bottom of a stack in the truck. With the mix of heavy and fragile items within the box, the fragile items may become damaged if other boxes are stacked on top of it. Be sure to label the box as fragile even if it is heavy.
A safer practice is to place fragile items together and protect them using packing materials like bubble wrap or packing paper.
Always be sure to pay attention to the weight of cardboard boxes when packing heavy items. You don't want to overpack!
2. Seal the box
Seal your boxes with packing tape. Run one strip over the long seam, stretching several inches down the sidewalls, then overlap one strip on either side.
3. Label and organize
As you finish packing each box, it's time for labeling. Be sure to include on your label where the box belongs (either by room or by owner), whether it contains fragile items, and whether it is heavy.
Organize boxes to make things easier for moving day. Boxes of similar weight should be grouped together into heavy, medium, and light piles. Fragile boxes should be clearly labeled and grouped together.
4. Load the truck
It is good practice to load lighter boxes toward the front of the moving truck. The heaviest boxes should go on the bottom, and medium boxes should be stacked on top of them. Fragile items should be protected on top.
Consider hiring a professional moving company to help both with your packing as well as loading and unloading the truck. Moving professionals are trained to keep items from being broken, and can you avoid injuries by lifting boxes that are too heavy.
Which cardboard box should I choose for moving?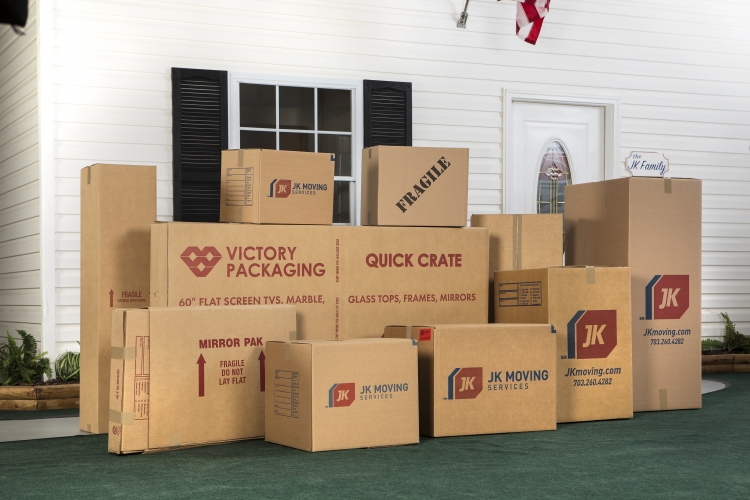 Not all cardboard boxes are the same, though standard cardboard boxes will suffice for most moving needs. For extra durability, choose corrugated cardboard boxes. These have a higher box weight limit and are environmentally friendly.
What are corrugated boxes?
Corrugated boxes typically have three layers: inside, outside, and internal fluting with a ruffled shape to provide padding and strength. These are ideal for shipping more weight and are eco-friendly since they're both reusable and recyclable. For extra fortification, consider triple-walled corrugated boxes.
What size cardboard box is right for me?
Cardboard boxes come in a range of sizes:
Small (around 16″ x 12″ x 12″): good for small items like DVDs, CDs, and electronics
Medium (around 18″ x 16″ x 18″): good for things like towels, sheets, and seasonal decorations
Large (around 18″ x 18″ x24″): ideal for bedding, speakers, and kitchen appliances like blenders and mixers
Extra-large (around 24″ x 20″ x 24″): great for items like large pillows, comforters, and blankets — don't use for extra-heavy things, as this could cause the box to burst
Conclusion
Remember that not all cardboard boxes are created equal. Most people require a variety of different materials for their move, including:
A selection of single-walled, standard boxes and sturdier boxes like double-walled and triple-walled boxes
A range of box sizes from small to extra-large
Packing materials like packing paper, bubble wrap, and moving blankets
Packing tape to seal the boxes up
Let JK Moving and our trained team members help you pack and transport the things that mean the most to you with care. Contact us to get a packing crew scheduled right away to ease your stress.