If you're preparing for a move, keeping your home clean might not be the first thing on your mind. However, if the house that you're moving out of starts to get cluttered as you pack up, you might find it difficult to keep your home ready to show to potential buyers and so you become overwhelmed, irritated, and just plain stressed.
If you plan from the start, though, it's possible to keep your home clean and save yourself the frustration of messes getting in your way and even slowing you down. Here are five tips to keep your home clean during a move – making the process as stress-free as possible!
1. Plan and organize
It's important to make a plan and stick to it – a plan that involves cleaning, that is. Because there are so many other aspects of a move to think about, tidying can get pushed to the back of your mind – only surfacing when the untidiness gets really bothersome.
Planning and organizing these aspects of a move can help keep your home clean:
The packing process

The packing process can get messy in itself, but if you have a solid packing plan, it will be more efficient and you'll have more time to clean up at the end of each day.
Make a plan and stick to it: Pack only one room at a time, or pack certain types of items on specific days to stay organized and clean as you go. If you wander from room to room and do a little bit of packing here and there without finishing anything, you'll end up with a big mess and nothing checked off your to-do list.

Supplies

Make sure you have all the supplies you'll need at the ready and keep them organized and in an easily accessible location

Professional moving assistance

Put the task of packing and moving into the hands of professionals to give you the time you need to keep your home clean and presentable for potential buyers.
2. Downsize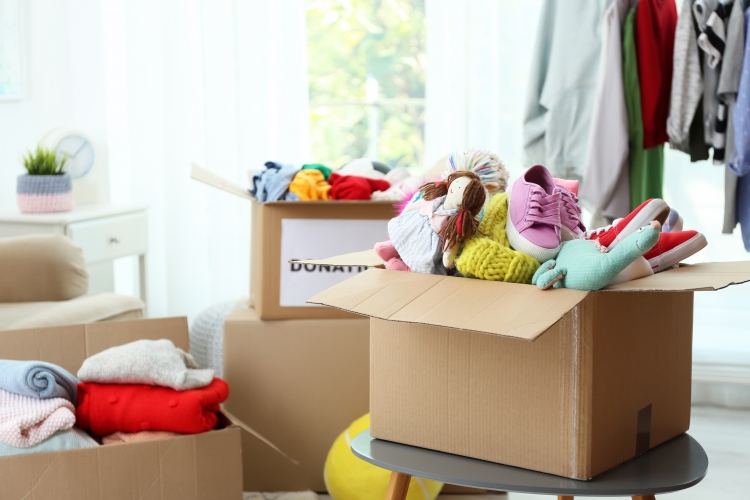 While moving, you might realize just how much stuff you really have. Sometimes, it can seem never-ending! And stuff will create mess – especially things that you haven't looked at in a while and are collecting dust or grime. So, what's the best thing to do in a situation like this? Downsize.
As you go through items, determine what can be donated and what should be discarded. After you've packed up what you've decided to keep, label the boxes! This way, they'll get put in the right places and you won't accidentally unpack the dishes in the bathroom or the towels in the basement. Not only will this free up some space (and give you less stuff to box up and carry!), it'll also lessen the amount that you'll have to clean.
3. Pack a bag for moving day
Moving day will probably be the most hectic and messiest day that you'll have to deal with during the entire relocation process. To keep all of your items straight – especially what you'll need throughout the day – it's wise to pack a bag that you can access without having to dig through already-packed boxes. You should include belongings like your phone, a charger, extra clothes, medications, keys, and yes, some cleaning supplies for last-minute messes.
4. Rent a storage unit
To make your home more presentable to prospective buyers who come in and take tours, you will want to make sure you don't have too much clutter. You may need to get some of your household items out of the way, and a storage unit could fit your needs. Inside a storage unit, you can put what you're not using at the moment – like seasonal items you've kept in the garage, attic, or basement.
Storage facilities offer leases that are short-, medium-, and long-term, so it's up to you on how long you want to keep your items there. If all you need is a place to store them while you get settled in, then a short-term lease will do. However, if you don't have space for these unused items in the new house (and you're not willing to part with them), a long-term lease might be your best bet.
5. Hire moving assistance
The biggest bonus you'll get when you've got professional movers doing the heavy lifting and packing is the time that you have to get your house clean and keep it clean.
JK Moving would be glad to pack up your house and get you moved so you can make sure your old living space looks its best. Contact us to see what we can do for you!