By Steve Gurney, Founder, Positive Aging Community
There comes a time when your older loved ones can no longer stay in their homes, and you'll be tasked with helping them find a new place to live. Whether that means moving to a smaller home, an assisted living facility, or into your house, the process of downsizing for seniors can be an emotional and logistical challenge.
Here are some tips for reducing the stress that might result from this significant change.
1. Focus on personalizing their new home
For some seniors, moving to a new home is a source of anxiety, as they exchange familiar personal space for a new environment. Keep their concerns in mind as you help them downsize. When they cannot bring all their possessions to a new home, at least some of their most important and prized possessions should have a place. As you start talking to them about the move, be sure to ask your elderly loved ones which items are most important to making them feel at home.
Helping senior parents downsize starts with questions – what do they want, what do they need, what can be sold, what can be given away – and becomes a concrete plan for moving. Your goal is to begin organizing items and preparing for the move. The earlier you can start those conversations, the better.
2. Move day considerations for seniors
Professional full-service movers can substantially reduce the stress of a move day, so you can attend to your elderly loved one's well-being and help them with the transition to a new home.
For any move, it's a good idea to follow these best practices, with some additional considerations for seniors. For instance, certain items should always travel with you and not in the moving truck, like cash, jewelry, legal documents, and medical records. When in doubt, think of it this way: Anything important enough to carry on a plane instead of putting in checked luggage is important enough to keep with you during a ground move.
For seniors, the list of important items almost always includes medication. For more advice specific to seniors, The National Association of Senior Move Managers offers a Guide to Rightsizing and Relocation that offers useful tips as you prepare to move a loved one.
3. Find a mover with experience relocating seniors
Some movers have more appreciation than others for the nuances of relocating seniors. Do your homework and make sure you're comfortable with the company that's handling your loved one's move. For instance, at JK Moving Services, we offer a dedicated senior move manager to help you plan.
If the timing of the move is critical, try to book as early as possible. Depending on the time of year, movers may need several weeks' notice in advance.
4. Visit early and often if you can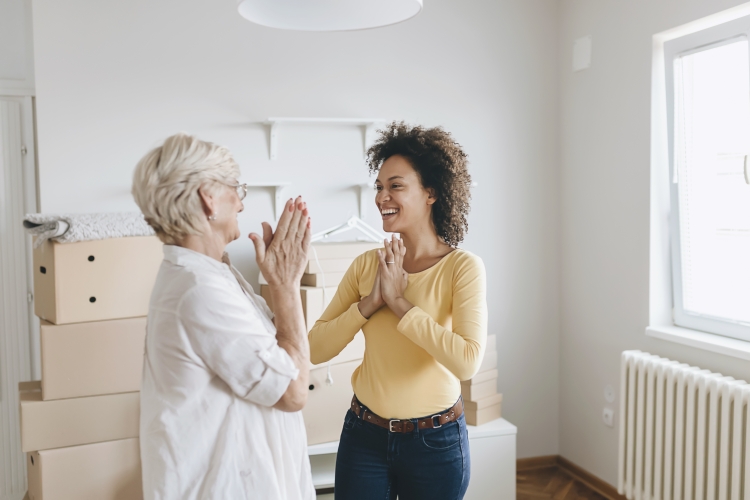 Remember, that your elderly loved ones are not just leaving a physical space. They are also leaving friends, neighbors, and other close community connections. Adjusting to the rhythms and routines of a new place takes time.
One way to help them feel at home in their new environment is to spend time with them. If you can, visit them soon after they move and as frequently as you can. This will support the process of making memories in a new home and showing them that just because they're in a different place doesn't mean they're alone.
About the Author
Today, we are joined by guest author, Steve Gurney from PositiveAging Community. In 1990, Steve founded PositiveAging Sourcebook, a comprehensive listing of every retirement community, assisted living, nursing and rehab center, and home care options in DC, Northern Virginia, and Suburban Maryland. The PositiveAging Community makes finding housing, aging in place solutions, and resources more convenient by connecting older adults, families, and providers via the most comprehensive and trusted resources in print and digital formats.