Commercial Moving
Commercial Office Movers in Delaware
JK Moving services is the expert moving team you can trust for all of your Delaware commercial moves. From office moves to laboratory moves, our Delaware team is here for you.
Get A Quote
JK Moving serves all cities and regions in Delaware. From Wilmington to Smyrna, Dover to Selbyville. JK Moving Services is here to provide your business a seamless and professional office move. We've helped organizations in Delaware establish and relocate offices, laboratories, government facilities, and more throughout the region. JK Moving Services understands the unique needs and priorities of our business customers.
Why move your Delaware business with JK Moving Services?
When you're looking for a company to relocate your Delaware business, there's a lot on the line. You're not just worried about damage to your furniture. You're concerned about avoiding downtime and getting your company back to business as quickly and efficiently as possible.
While you may be concerned about your stuff, your real focus should be on minimizing disruptions and getting back to work. That's the true cost of the move. At JK Moving we've grown by putting the needs of our customers first. We want to make you the office hero by being your personal move experts and by:
Starting every job by learning what's important to you.
Committing to on-time, every-time excellence.
Customizing move strategies for a seamless move.
Supplying experienced, trained moving professionals.
Minimizing disruptions to your staff.
What commercial industries does JK Moving Services serve in Delaware?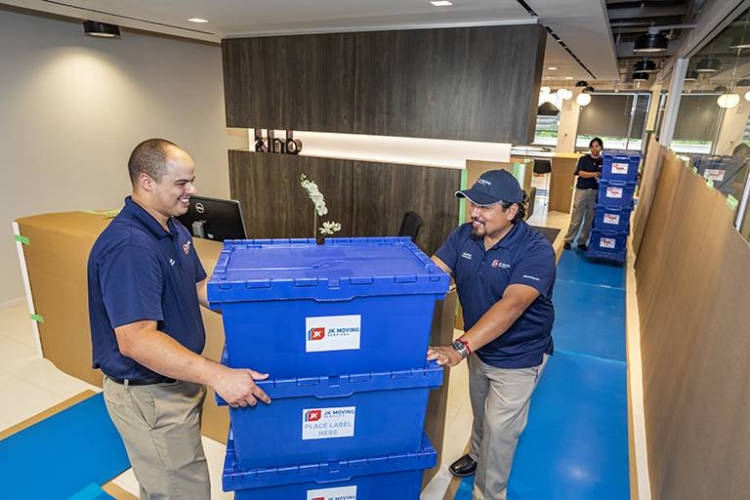 JK Moving Services serves almost all business industries in Delaware. We specialize in office moves, industrial moves, laboratory moves, tech services and more! If you do not see your industry listed, please contact us for more information regarding your move.
Office Movers in Delaware
With over 35+ years of experience, a 98% client satisfaction rating, and the largest independent office mover in the nation. You can count on us to make your office move go smoothly.  From packing and planning, to technology and storage we have you covered.
Laboratory Movers and Medical Equipment Moving in Delaware
We have extensive experience in moving labs.  Our Delaware lab movers specialize in disassembling, moving, setting up labs, and moving work in progress with the utmost care.  We minimize downtime and disruptions with pre-move planning and labeling.
Delaware Data Center Relocation and Migration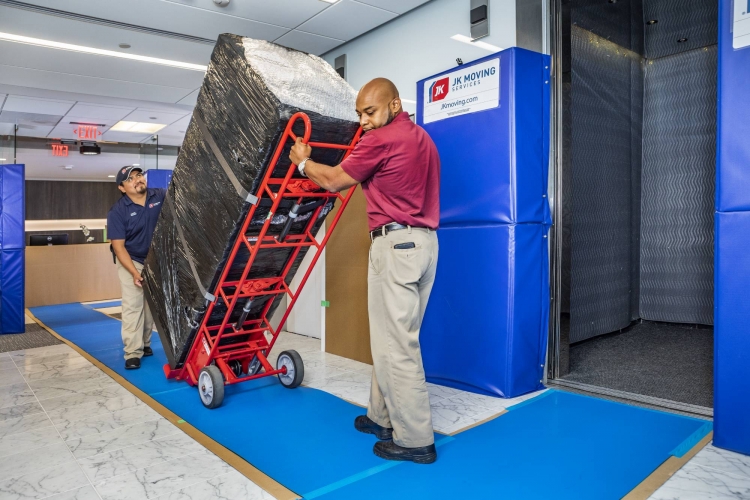 We specialize in: Data Center migrations, equipment de-racking and re-racking, cabling, rack relocation, secure data destruction and other hardware and technical services.  Our Technical Services team works with our Delaware logistics fleet and experienced relocation specialists to ensure a seamless, turn-key, end-to-end data center migration project.
Industrial Movers in Delaware
Amazon and e-commerce industrial warehouses are expanding into Delaware. You face the challenge to maintain fluid access to inventory, while minimizing manufacturing downtime. As an industrial mover, we deliver a smooth relocation experience for factories, warehouses and laboratories.
Federal and Government Movers in Delaware
We have extensive experience moving government agencies.  Our government-cleared crews can move your Delaware assets and classified data with minimal downtime to you.  We employ chain-of-custody protocols to allow you full control over the move.
University and School Movers in Delaware
Our experienced school and library movers offer detailed logistics planning with budget controls — and a plan for receiving, storing, delivering, and installing your Delaware based furniture, fixtures, and electronics (FF&E) school project.
Need business storage services in Delaware?
Need short- or long-term business storage? Need turnkey asset management, distribution, or fulfillment solutions? We can help. We have secured/controlled access facilities throughout Delaware.
Delaware cities and regions served
JK Moving Serves serves the whole state of Delaware. We also have office and commercial moving teams that serve nationally and internationally. Below is a list of some of our most-served Delaware cities and regions:
Wilmington
Dover
Newark
Middletown
Bear
Glasgow
Hockessin
Brookside
Smyrna
Milford
Pine Creek Valley
Claymont
Pike Creek
Wilmington Manor
Georgetown
North Star
Edgemoor
New Castle