Considering the recent European Office Occupier Sentiment Survey conducted by CBRE, a notable shift in office dynamics is evident. With a substantial 50% of surveyed companies expressing a preference for a hybrid work model, combining remote work with on-site presence, it becomes evident that evolving factors such as reduced office attendance, averaging at 40% or lower for nearly half of these companies, are prompting organizations to explore office decommissioning projects.
Planning an office decommissioning can be stressful for any business owner or manager. There are many moving parts and different factors to consider when decommissioning an office and preparing for a move. Proper project management and communication with employees make a significant difference, with preparedness and a solid, fleshed-out plan to make the process smooth and easy. A proper office closing checklist can help to define everything that needs to be done when planning your office decommissioning.
Meet with your property manager
Every office space has furniture and equipment to move when decommissioning. One of the first steps should be to meet with your property manager to lay out what's required of you as you end your lease and to help establish a time frame for your move. Proper timeline management will help to easily schedule office furniture removal and equipment disposal.
Inventory your equipment and furniture
When creating an office move checklist, understanding what will go with you and what you need to eliminate is essential. Creating an inventory of your office's furniture will help with the equipment and furniture decommissioning process, including what can be donated or sold, and what should be discarded.
Hire a moving company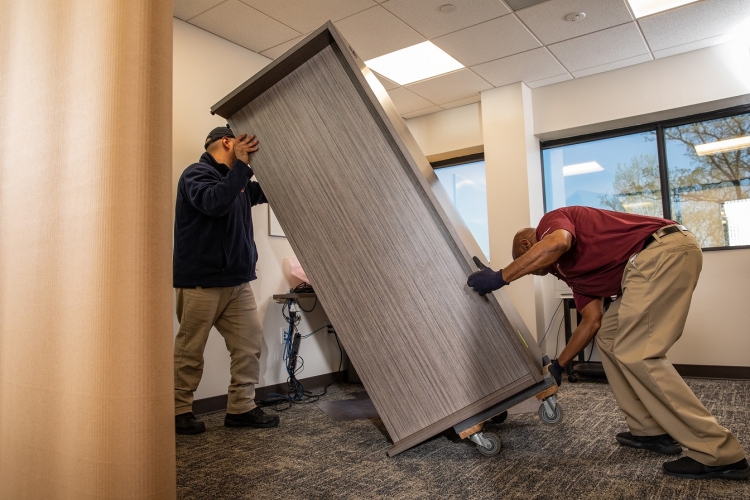 For most offices, moving equipment from one space to another will likely require you work with a moving company. Office furniture removal can be a time-consuming and physically taxing process, so hiring movers can help take the stress off you and your employees. A professional moving and storage company will help with planning and budgeting your office relocation.
Notify your company's clients and partners
Clients and partners should stay informed about your company's upcoming project as well as your employees. Quickly inform both clients your company has worked with and any business partners about the upcoming relocation, providing them with information about the new office and when your business will be up and running in the new location. To provide partners and clients with adequate notice of your relocation, contact them at least three weeks prior to the move.
Clean up your office
Once planning with your moving partner has been set, packing and cleaning become crucial for the organization and your employees. Proper, thorough packing will help you quickly locate supplies after your business has moved to its new office space and reduce supply loss and a complicated unpacking process.
Create an office cleaning checklist to ensure you return the office to the condition it was before you arrived. Include vacuuming and cleaning the office's interior and exterior, and also more technical activities like disconnecting phone lines.
Follow proper regulations
An office decommissioning project will generate a significant amount of waste, so it's important to have a waste removal plan in place. Depending on the scale of the project, it may not be feasible to dispose of items in the building's dumpster. Hiring a waste removal service or renting a larger dumpster for the duration of the project may be necessary to ensure environmental compliance for waste disposal.
Data security
Data security is essential during an office decommissioning project. Store essential documents in a single, secure location to keep them safe until you are ready to move them to the new space. Some records pertaining to the old space may need to be turned over to the property manager or require disposal. Review files prior to the relocation and determine what to save, shred, or relinquish and plan accordingly.
Plan for your new space
One of the most critical steps for a business moving to a new location as part of its office decommissioning is planning for the new space. Ensure the efficient moving and set up of your new space by carefully planning the placement of furniture and equipment.
Click here for an itemized checklist to guide your office decommissioning project.