Additional Commercial Services
Federal moving services
Stay ahead of change and maximize your budget for facility relocations and office moves. Turn to a global moving leader who understands the needs of the government, its agencies, and the military.
Get a Quote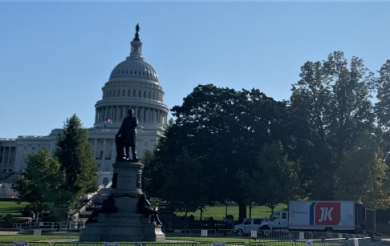 Need a flexible solution for your upcoming office or facility relocation, all while minimizing stress and downtime? JK provides government agencies and the military with cleared crews who understand and meet the requirements of your mission-critical move.
As a part of the MAS (Multiple Award Schedule) we have extensive experience moving government agencies, whether it's the Pentagon or the Social Security Administration.  Our government-cleared crews can move your assets and classified data with minimal downtime to you.  We employ chain-of-custody protocols to allow you full control over the move.
Receive best-in-class customer service, fast and done right the first time — from highly secure details to downsizing or realignment of space, no matter how large or small.  We offer 30 plus years of industry experience, with a track record of proven deliveries, in-depth knowledge of government travel and acquisition regulations, and an understanding of international shipping laws. Feel confident with choosing JK as your partner.