When companies decide to relocate offices there is always discussion on the logistics of the move; how are the files going to be moved, how will the offices be moved, and what will happen with the server equipment? All of these are legitimate questions, and your mover will be able to answer them.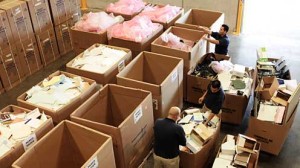 One question that needs to be asked is what is going to happen with all of the current office furniture? If all of the furniture will be moved, make sure your mover has received the proper training to safely move all office furniture. But what happens if the furniture is not going to be moved? What options are there for the relocating company? JK can help with the following three solutions.
Option 1: Sell the furniture
JK works with suppliers who can sell your office furniture. They will come in and view the furniture that is no longer needed. If they are interested in all or some of the furniture, they will pick it up at their expense. By doing this, the relocating company limits the amount of material moving, lowering their total cost.
Option 2: Donate the furniture
JK has relationships with numerous non-profit organizations that are eager to take advantage of gently used furniture. There are two scenarios. The non-profit can retrieve the items directly from the office space. Or, JK can store the items in its warehouse for the non-profit to pick up when they are ready. This is a great option because it allows the company to give back to the community.
Option 3: Properly dispose of the furniture
There are times when office furniture cannot be resold or donated. When this happens, disposing of the furniture is the only option. The key is to minimize how much goes to the landfill. JK uses a tool called the auger which crushes and shreds whatever is put in it. This way we can minimize the total volume going to the landfill. Take a look at our Recycling Infographic here and see how much we've saved from landfills.
During a commercial relocation there are many concerns regarding the move, ranging from building protection to server equipment to the furniture. Whatever you decide about your furniture, JK has a solution for your company. If you have questions or comments, please leave them below.