With a deep appreciation for customer connections and collaborative teamwork, Kristina Fernandez thrives in an environment that values employees and customers alike. Get to know Kristina and learn more about her achievements, her genuine passion for JK's customer-centric approach, and her aspirations for professional growth.
From military to moving industry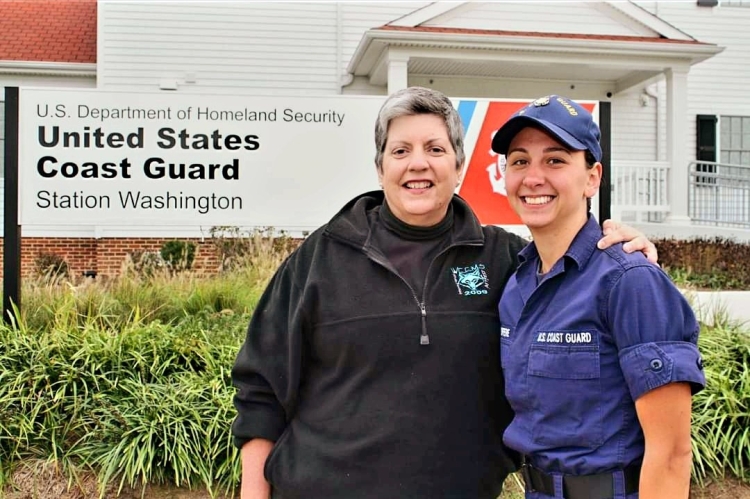 Kristina served in the US Coast Guard for six years, where she was a Boatswain's Mate. She took charge of deck maintenance, small boat activities, and navigation, and managed the personnel assigned to her team. During her time stationed in Hawaii, she had the chance to explore Alaska, Japan, Mexico, and California.
After leaving the Coast Guard, Kristina began working at UPS. The biggest milestone in Kristina's career occurred while she was still at UPS: a promotion to full-time Security Investigator at UPS. In this role, she was responsible for auditing security policies and procedures as well as conducting investigations and ensuring the workspace was a safe and healthy environment for both employees and customers.
She finally found her way to join the JK family in November 2021. Kristina never thought she'd end up in the moving industry, but it's been a great experience for her so far. "I took the position because of my expertise and the shared mindset of working with government officials and military members." We value our veterans and are happy to grow our team with service members from all branches.
Why JK Moving?
Kristina loves two things about our company, getting to know the customers and working with the Government Team. "We help and support each other out whenever it is needed and make each other laugh!" She feels inspired to be working for a company that cares about its employees and customers. As she continues her career with JK, she aspires to be promoted to Military Supervisor.
Kristina Fernandez at home
Kristina is a Bonus Mom to two college-aged children. She loves spending time with family and friends, traveling, exercising at JK after work, being a dog mom, and building Lego. In fact, she loves building with Lego so much that she hopes to build a Lego room where she can let her imagination take its full form!
She describes herself as loyal, outgoing, and determined, which serves her so well in her role at JK. We're lucky to have Kristina as a member of the JK team, and if you or someone you know is looking for a rewarding career at JK Moving, our Careers page has all the information you need!