Commercial Moving
Office Furniture Removal Company
The COVID-19 Pandemic has significantly impacted the workplace. Let JK's office furniture removal experts help with your Return to Office (RTO) business plans.
Experts in Office Furniture Removal
As workers return to the office, conference rooms, learning labs and break-out spaces will again be used to enhance collaboration in a safe way. Clearly identifying which seats follow physical distancing and removing excess seating will help employees follow these guidelines.
Shifting to larger workspaces will cut your existing floor space. To satisfy the 10-person maximum gathering rule, you will need to remove extra conference room chairs. We can remove and store your excess furniture until the need for social distancing has diminished.
You will have 24/7 online access to your storage items through our customer portal. Our real-time digital image inventory allows you to view your inventory and even schedule time for us to deliver it out to you, when you need it.
We protect and manage the complete range of company assets, including:
Office furniture and workstations
Medical and laboratory equipment
Documents and files
Backup tapes and other digital media
Items and equipment requiring climate-controlled warehousing
Marketing collateral and trade show materials
Art and museum exhibits
Sustainability to the core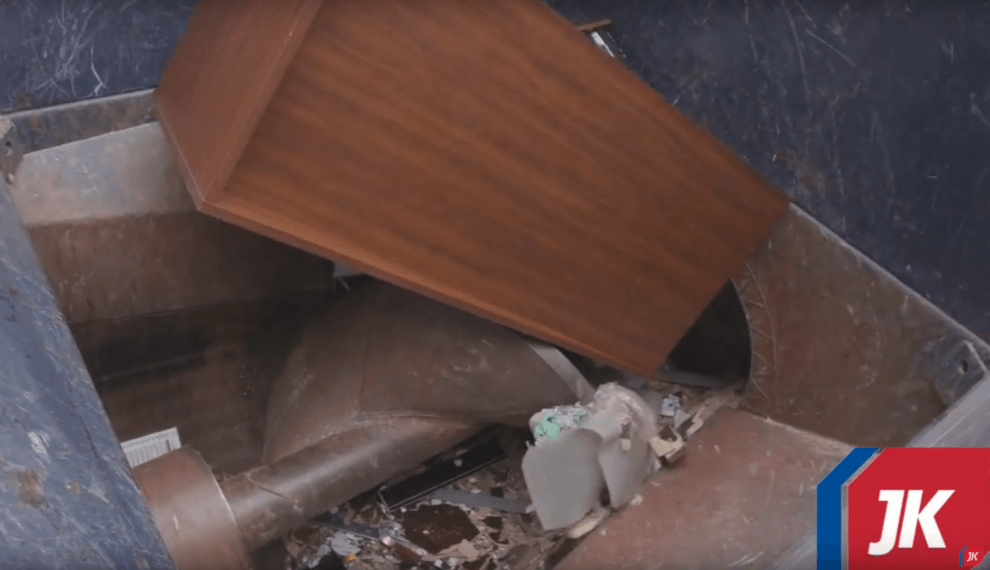 Sustainability to the core
The first step towards a sustainable move was to minimize the amount of solid waste volume that was going to the landfill.  JK Moving uses a high torque, low speed screw auger that shreds and compacts wood furniture. Making the physical waste 10 times smaller in volume.
Watch Video