Additional Commercial Services
University and school movers
From dorm furniture to data centers, from computer labs to rare book collections, turn to an expert in education relocation.
Do you have a summer renovation going on?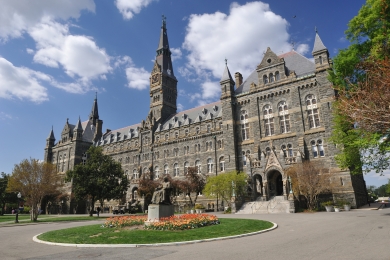 Create a relocation plan that's right for you, whether it's phased or complete. Our experienced school and library movers offer detailed logistics planning with budget controls — and a plan for receiving, storing, delivering, and installing furniture, fixtures, and electronics.
To maximize efficiency and peace of mind, we support your busy teachers, professors, and professional staff with packing and unpacking assistance, training, and an easy-to-follow labeling system.
Return to campus services
Colleges and universities around the U.S. are beginning their phased-in Return to Campus (RTC). They are faced with whether, when, and how to open their campuses in the fall. Many administrative officials are concerned about bringing students back to campus from various parts of the country and the world. Learn more about our Return to Campus services and tips to help you safely bring your students back to school.
Need college dorm room move-in assistance?
Trying to get hundreds of freshmen into their dorm rooms can be an overwhelming task for your facilities team. Make your move-in day less stressful — turn to JK and our move-in day services.
Our crew helps your team move in the personal belongings of your students. We set up stations outside of dorms where we will receive/unload, label, and deliver students' personal items to their dorm rooms directly in a planned, organized fashion.
The move went great. JK's team were wonderful to work with. Using the Zoom link to see what was being packed up was very helpful. I recommend JK Moving to other parents in case they needed a moving service. You were a life saver during a very chaotic time.

Julie P.

Move Type: Dorm room packing & shipping

Move Date: March 2020
You guys were so helpful and patient. Being told to vacate my daughter's dorm when she was already here in LA left us feeling very uncertain of how to handle it. JK provided a solution that was terrific. Everyone was patient and available to communicate whenever I needed them.

Mike K.

Move Type: Dorm room packing & shipping

Move Date: March 2020
Our move was a bit problematic as there was a lot of uncertainty on our end due to issues with the new leased property. Our sales rep and move team were very professional and a pleasure to work with as well. You will be our first call when we have a need in the future.

Amy S. - Catholic Distance University

Move Type: Office Move

Move Date: March 2020