How do you plan a successful library move?
Libraries are the heart and soul of cities and communities worldwide. The dedication of staff, donors, local governments, and patrons that goes into growing and maintaining vibrant library locations and collections is richly rewarded by the services that benefit everyone who walks through a library's doors. When it comes time to renovate or relocate a library, it is important to create a thorough plan that is a blueprint for an efficient, cost-effective, and successful move.
Moving library collections
Whether fully relocating to a new building or performing collection moves within an existing location, planning a library or archive move begins with a thorough assessment of the current space. Survey the collections, furniture, fixtures, equipment, and other materials, and then draft an overview of what is working and what needs improvement. From there, identify any potential issues particular to your collections and assets that may need to be addressed during the relocation or renovation process.
This is the perfect moment to consider the needs of the library's staff and users. Is the flow of traffic efficient and logical? Are the building and its rooms accessible to all users? Are materials accessible and attractively displayed? Is there room for collection expansion? Do staff have sufficient and comfortable workspaces that are separate from public areas? Take these points into consideration throughout your library relocation project planning and execution.
How to create a relocation or renovation plan
The next step is to craft a detailed plan that outlines the specific steps and timeline for completing your library relocation or renovation. Begin by establishing a budget, allowing ample time for approval by any trustees or oversight boards as required by your library's governing structure. Build out the plan to include a detailed outline of work that needs to be done, a list of materials and moving equipment needed, and a schedule for beginning and ending the process.
If considering the use of design professionals to help plan a new layout, or professional library relocation services to securely transport and deliver your collections, it is critical to factor in time for requesting and evaluating RFPs. Regardless of the project's scope, it is essential to protect your library's furnishings and collections throughout. Appropriate packaging and labeling ensure that books, documents, electronics, artwork, media, and other materials are not damaged or lost. If storing or archiving materials for any length of time, be sure designated storage areas protect against such dangers as moisture or sunlight. Working with experts in the logistics of library moving gives you access to professionals who can help organize and reliably execute every aspect of your move.
Library amenity upgrades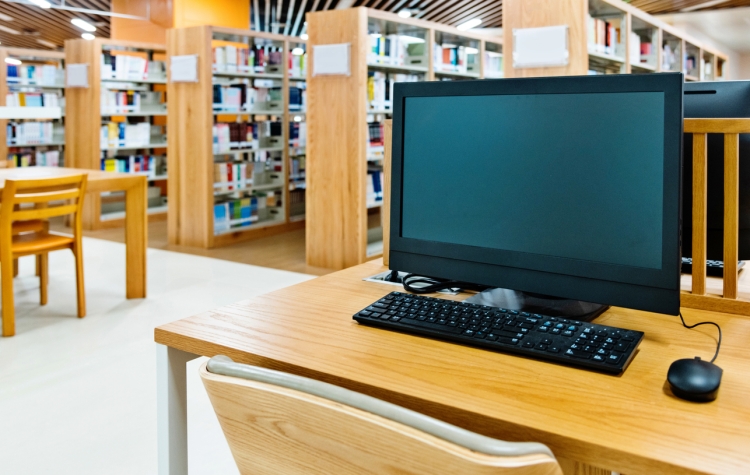 Library relocation offers an excellent opportunity for expansion and improvement. Consider what types of spaces will be most useful for current and future library users. These may include quiet study areas, collaborative workspaces, or multimedia centers. Installing or improving access to high-speed internet, charging stations, and electronic equipment, such as computers, printers, and scanners, offers benefits to library users of all ages. Improving electronic systems, like signage, checkout scan tools, or self-serve kiosks, also meets the needs of modern library staff.
Whether changes are technology-focused or driven by the need to safely house physical materials, space optimization and potential expansion must be kept front of mind during planning. Factor in the need for additional collections, furniture, equipment, and storage, at present and in the future.
Meeting the needs of stakeholders
From large research libraries to suburban town libraries, a relocation or major renovation means temporary disruption. Library directors, librarians, and facility managers should have a solid plan for communicating with stakeholders throughout the process. This can help alleviate concerns and ensure a smooth transition to the new or renovated space while achieving the careful stewardship of collections and continuation of vital library services.
Planning a library move is a complex task that requires careful consideration of the library's collections, staff, and users. Creating a detailed plan that outlines specific steps and timelines, budgeting, and working with logistics experts to ensure the protection of library furnishings and collections is essential. A well-planned and executed library relocation can ensure the continuation of vital library services while creating an environment that meets the needs of both staff and patrons.