Outfitting 16 floors of a new executive office building or equipping a new luxury hotel can be challenging and stressful. To ensure the success of these projects, organizations need to work with a partner who has the resources to deliver and is as committed to the project's success as they are.
JK Moving offers advanced logistics, storage, delivery, and installation services — from a single turnkey provider. We provide leading building owners and managers with a unique, reliable Furniture, Fixtures, and Equipment (FF&E) and Operating Supplies and Equipment (OS&E) partnership that can be counted on, including:
Asset management and storage
Real-time online inventory
Owned, highly secure and flexible warehouse facilities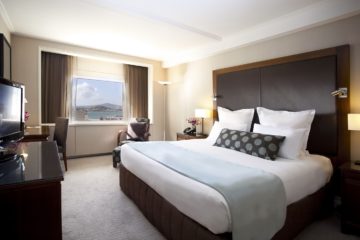 Logistics and transport
Last-mile delivery
Receiving and inspection
Hotel and hospitality logistics
Healthcare logistics
FF&E and OS&E
High-quality installation
Specially trained, full-time installation experts
Full mock-up rooms
Artwork and mirrors
Reengineered FF&E processes
We've reengineered the FF&E process from the ground up, to optimize performance and meet any organization's needs, with:
An efficient inventory management system to reduce worries regarding which orders have been shipped and delivered.
An orderly and accurate inspection and claims process to reduce waste and loss.
Extensive warehousing capacity for any size project.
A delivery and installation partner who is always at the ready.
JK's fully integrated in-house FF&E services provide each customer with a single point of contact, a Project Manager who will work the customer and guide them through every step of the project.
Contact JK Moving for your next FF&E project. When it comes to FF&E, we put it all together!