By Jacob Windle
Before accepting an office life of luxury and air conditioning, I spent a year working on the JK moving crew. During my tenure, I moved hundreds of customers into every kind of living situation. Entering a customer's home was, in simple terms, a new experience every time.  Much like the intro to History Channel's long running hit "Pawn Stars," I never knew what was going to be through that door. Unexpected surprises often led to delays, costing customers time and money.
Your move-day crew's ability to work at maximum efficiency starts before they even arrive. When a customer is prepared for the crew's arrival, the crew is able to jump in immediately, and work efficiently till the job is complete. From someone who has actually been out on hundreds of jobs, here's how to be the most prepared for your movers on move day and save that precious time and money.
Be ready for the walk-through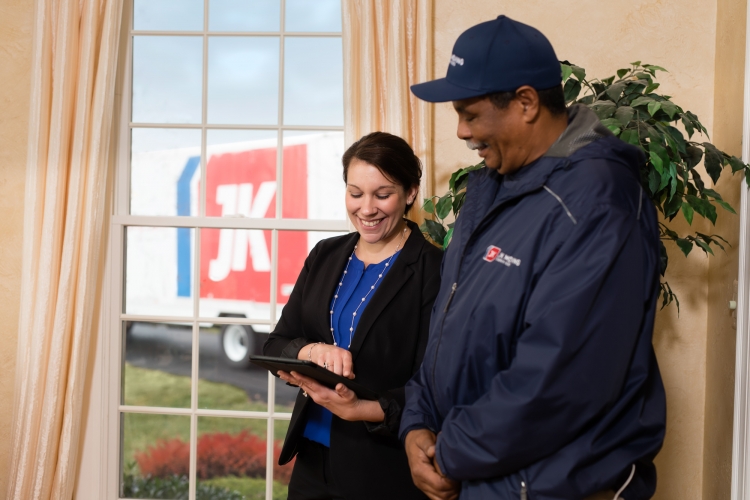 This tip is probably the easiest way to save the most time on your move. The first thing a crew will do upon arrival is a walk-through of the home. During the walk-through, the driver will take note of each room, the items leaving/staying from the room, and the order in which the rooms will be moved. Be prepared by planning an efficient and thorough house tour for the crew. By planning ahead, not only will you save time from the initial walk through, you also allow the driver to plan the most efficient move possible.
Organize your possessions
While by no means required, organizing your possessions saves massive amounts of moving time. By sorting items together based on whether or not they're being packed, the crew can work at a much, much faster pace. Instead of having to constantly ask whether or not they should pack each item, the driver can simply note if a group of items is being taken during the walk through. Also, avoid large quantities of loose clothing sitting around in piles. Not only are these piles potential tripping hazards, they also take crews a long time to pack.
Decide what is being moved well in advance
While this may come as a shock to more organizationally gifted readers, some customers still have not decided if some items will be packed and transported by JK on move day. It is not rare for the crew to have to pack and unpack an item several times while a customer decides if it is going or staying. In a worst-case scenario, an entire truck may have to be unpacked to find an item a customer decides will travel with them personally or head to the junkyard. Avoid this massive time waster by knowing firmly beforehand which items are leaving on the truck.
No unexpected items
It is best practice to avoid revealing items that need packing and shipping after the crew has already completed most of the move. Your crew will have an expert for loading the truck, working to load your items tightly to avoid damage, and to fully utilize the truck. By waiting till the last minute to unveil a forgotten mattress or closet, the loader will have to waste time reorganizing your possessions, needlessly wasting money.
Hire the best movers
Moving companies with cheap rates can be tempting. However, hiring seemingly cheap movers over quality service can end up costing you much more in the long run. Not only are you at a greater risk of a long, painful move, amateur movers with low standards fail to treat you and your possessions with the care and respect they deserve. While sometimes your move may end up fine, often items will arrive damaged, broken, or not at all. Avoid massive post-move costs by hiring a quality moving service that understands and respects your relocation needs.