When you think of high-paying jobs you probably think of the technology industry. That makes sense. Six of the top-10 richest people in America are technology moguls: Microsoft's Bill Gates, Amazon's Jeff Bezos, and Facebook's Mark Zuckerberg, to name a few.
Jobs like doctors, surgeons, and lawyers are also top-of-mind when it comes to high-paying careers. But those jobs all require years and years of higher education and a large investment in tuition. What if there was a career that didn't require a decade of schooling, yet still offered a high salary? America is in need of truck drivers and JK Moving Services' average driver salary approaches the list of the top-25 highest paying jobs in the United States.
Glassdoor, a jobs and salary website, recently released its third annual list of best-paying jobs in America. The rankings started at #1 with physician ($187,876 median base salary) and ended at #25 with attorney ($94,695). The average salary for truck drivers at JK Moving Services is $78,638.
Coincidentally, the Wall Street Journal also recently published an article about the country's trucker shortage, blaming long working hours and poor salaries for the extreme need for drivers.
Like any job, there are pros and cons to being a truck driver.
Con: Truck driving often requires long hours on the road.
Pro: Those long hours take you to some of the most beautiful places on Earth.
Con: Truck driving will require you to be away from your home for periods of time. Short-haul drivers might expect to be on the road for a night or two. Long-haul drivers may be on the road for one to six weeks at a time.
Pro: But while you're out on the job, you get to make your own home in one-of-a-kind places around the country.
Con: Truck drivers have to spend a lot of time by themselves.
Pro: While the independence is nice for some people, there are JK truck drivers who choose to travel in husband-wife, father-son, and friend-friend teams.
Con: Truck drivers spend most of their time inside of their cabs driving. And when they get to their loading docks, a crew unloads the truck while the driver sits around waiting.
Pro: With each and every move, JK truck drivers get out of their cabs to help different people advance their lives and careers while managing a team of moving specialists.
Con: Truck drivers can start to live unhealthy, sedentary lives, eating junk food from truck stops without getting much exercise.
Pro: JK drivers get regular exercise when they help the crew move goods to and from their truck to the customers' homes.
Con: Driving trucks requires a good amount of training that most people don't have when they enter the driving profession.
Pro: Training for truck drivers is accessible at companies like JK. Also, truck drivers don't need a college degree to earn a CDL (Commercial Drivers License).
Con: A lot of jobs that don't require college diplomas, don't offer career-minded benefits packages.
Pro: JK offers truck drivers extensive benefits packages including medical, dental, and vision coverage; company-paid life insurance; 401(k) Safe Harbor accounts; company-paid profit sharing; referral bonus incentives and more.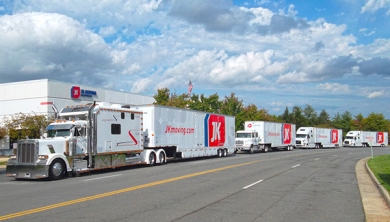 Truck driving isn't for everyone. But if new adventures, helping people take the next steps in their lives, and the nearly $80,000 average salary — with the potential to earn more than $100,000 per year — all sound appealing, a career as a JK Moving Services truck driver can be an exciting way to make a living.
If you're interested in learning more about starting a career as a company truck driver or an owner-operator at JK Moving Services, contact our driver recruiting team at recruitingteam@jkmoving.com or visit our website at jkmoving.com/careers.