It's no secret that moving isn't easy, especially when moving internationally. Shipping a car from the U.S. overseas may seem confusing at first glance, yet it is surprisingly straightforward once you understand the basics.
In this article, we'll break down how to ship your car almost anywhere on the globe so you're prepared for what's to come.
Cost to ship a car overseas
Shipping your car from the U.S. to another country comes with a hefty price tag. Depending on the distance, size, and kind of car, as well as the kind of shipping you choose, the cost can be as high as $7,500.
Several things can influence the cost of shipping your car to a foreign destination. These include your vehicle's weight and make, the drop-off and pick-up options chosen, the total distance it needs to travel, and both ground and international shipping methods.
Vehicle size and type
Moving a larger car will cost more than transporting a small vehicle. Generally, the model and age of your car won't have a significant impact on the total cost, though high-end or classic cars of any age may need special insurance and safety measures.
Drop-off and pick-up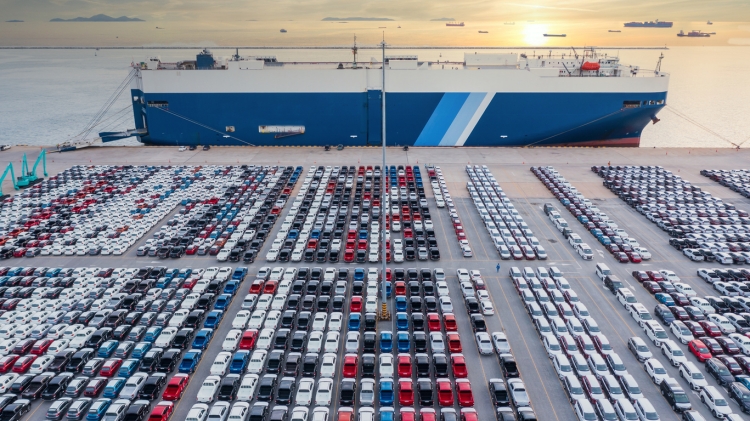 Depending on the transportation service you pick and the laws in your destination country, you may have some different options for vehicle delivery and collection.
Door-to-port is a typical auto shipping option. The shipping firm collects your vehicle from your home and you have to pick it up from the port in your destination country.
Port-to-port shipping means you must drop off and pick up your vehicle at whatever seaports your shipping company uses for overseas transportation. This is a more affordable process.
Door-to-door car shipping has a much higher fee as it involves hiring ground transport in both your origin and destination countries. This shipping option may be the hardest to find and might not be available for certain countries.
Total shipping distance
The total shipping distance is a major factor that affects the cost when you are sending your car from the U.S. to another country. It's a lot cheaper to ship your vehicle from Virginia to Jamaica than it is from California to South Africa. Rates also can vary depending on which port you're shipping from and which port you're shipping to.
Open vs. enclosed transport
Open transport means your vehicle will travel on an open-air carrier and is the most cost-effective option, however it leaves your car exposed to the elements. Enclosed transport, on the other hand, keeps your car safe from outside debris, but is much pricier.
Roll-on-roll-off vs. container shipping
The roll-on-roll-off method is when your car is rolled on and off the deck of a boat. Your vehicle is secured inside the ship, surrounded by other vehicles. This is generally a more affordable option, although it does open up the possibility of damage due to shifting cargo.
Container shipping is the safest and most secure way to transport your vehicle, especially if it's a luxury or custom model. Your car will be placed inside a standard shipping container, then loaded onto a ship.
How to prepare your car for international shipping
Many vehicle shipping companies will take care of the entire process of shipping your car overseas for you, but having a good idea of what the key steps are beforehand is a great way to be ready for when your car leaves the driveway.
Check for major maintenance issues like cracked windows, brakes that don't work, and tires that are flat or underinflated. These can be deal-breakers for car shippers, so make sure you get them taken care of before you try to ship.
It's a must that your car's fuel tank is no more than a quarter full when it's being transported across the sea.
Clear out your belongings and remove any car alarms, too. You don't need to take out manufacturer-installed accessories or permanent installations though.
Some countries may have strict regulations when it comes to the hygiene of your vehicle, especially to avoid the spread of agri-related diseases. So it's a good idea to give your car a thorough wash, both inside and out.
Make sure you have all the necessary documentation. It's best to have copies of everything just in case the shipping company or customs agents ask for them.

Registration
Title
EPA form
Driver's license
Purchase invoice
Vehicle appraisal
Bill of lading

Shipping times can vary – it could take up to six weeks for the whole process to be done. Because delays can occur, have a plan for getting around if you arrive at the destination first.
Although shipping a car internationally can be costly and nerve-wracking, ideally you're now better prepared to do so.