When moving, you may have some alcohol products that you wish to take with you to your new home. However, various laws may restrict how you can transport these items across states or countries and can differ depending on your origin and destination locations. Here is some info that will help you move your alcohol products safely and legally to your new home.
Know the laws for moving alcohol
It is illegal to ship alcohol products with the US Postal Service, UPS, or FedEx unless you are a licensed distributor. You will need to use other methods when moving alcohol products to your new home – likely by transporting your items yourself or through your mover. Some states have restrictions governing the amount of alcohol that can be brought in for personal consumption. If you're making an overseas move, there are complex customs guidelines about bringing your alcohol products across borders.
Ask your independent mover for information about state laws for transporting alcohol products. They are the experts and can provide you with the correct information on how to move your items. They may even have their own rules for moving alcohol products. Virginians can view the Department of Alcoholic Beverage Control's (ABC) guide for importing personal alcohol products. State laws can greatly vary – Pennsylvania, for example, prohibits bringing any liquor or wine (purchased outside of the state) into the state unless you are a certified manufacturer – so be sure to check the laws of your destination state ahead of time. For international moves, customs laws can be stricter, so ask your international move coordinator about your options.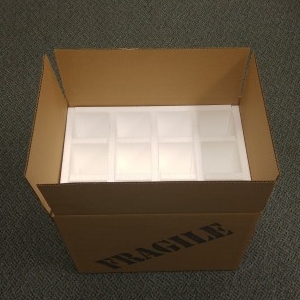 How to pack your items safely and securely
When packing your alcohol products, use extra caution. The last thing you want is spilled liquor and shattered glass. Normal cardboard boxes will not properly support and protect the items. The weight will pull the box apart, or rip the cardboard. Instead, look for boxes intended specifically for moving alcohol products, such as JK's boxes for moving wine. If you do choose to pack the items yourself, ensure to follow advice to best protect them.
Start with a thick, sturdy box. Be sure to label the box "fragile – this side up." This helps make sure that the items will remain fairly stable inside of the box and will be treated with extra care. Next, pack the bottles side-by-side and separate layers with extra cushioning. You should prioritize cushioning and space, so use plenty of bubble wrap or thick cloths (e.g., towels). Lastly, you should not over-pack the boxes. These items are not just heavy, but also fragile; the extra weight can cause the box to fall apart and break your items. For these reasons, there is nothing wrong with leaving a box half-filled with bottles, as long as it can securely hold your items and has the proper cushioning.
Summary
Ask your mover about the applicable laws for moving your alcohol products to your new home.
Ensure that your alcohol products are packed safely and securely, either by hiring a professional moving company or by packing them yourself with extra caution.
You can purchase special wine boxes from JK.