The spooky season is upon us! No matter how much it brings down your spirit, sometimes moves must occur around the 31st of October.
There's no denying that moving around Halloween can be a disappointment, but it doesn't have to be. Here are a few fun and lighthearted ways that you can maintain your excitement for Halloween – all the while preparing for (or going through with) a move.
Here's how:
Create a haunted house
During the process of a move, you'll have two empty houses – the one you're leaving and the one you're moving into. Either of these places can be turned into the perfect, ghoulish, haunted house for you and your kids (or even friends around the neighborhood) to be spooked by. All you need to do is grab a few strobe lights from the store, drape some cobwebs around, and utilize a good number of white sheets. With some creepy tunes in the background, you'll be good to go. You'll be surprised by just how creepy an empty house can be.
To make it even more fun, hide candy throughout the cavernous, spooky space, and have your kids hunt for it!
Reuse moving materials
We talk a lot about how you can reuse moving materials again and again, yet we have suggestions on how to reuse them in October that are a little different than normal. Starting with the boxes: Instead of storing them for your next move, duct tape a few together and create a fun robot costume! Next, with all of that packing paper, you can turn yourself (or your child) into a mummy. Or with some green paint added to your sheets and sheets of bubble wrap, you can become a swamp monster straight from the lagoon. Check out these other suggestions for some fun boxy Halloween costumes.
Keep your costumes accessible
If you don't plan on using your packing materials for your costumes, you should keep the ones you're actually wearing handy. Pack your family's costumes in your go-bag so you can access them easily without digging through mounds of other holiday items – and keep in mind the accessories, too, like wigs, makeup, and trick-or-treating bags. If you'll be arriving on the night that trick-or-treating is scheduled, your kids will want to get at their garb as fast and as easily as possible.
Pack that candy
It's the time of year where your travel snacks don't have to be the healthiest. If you're moving before Halloween, stock up on candy bags from the store and supply your car with them so a sweet treat is never far away. If you're moving after Halloween, get your kids to put off raiding their trick-or-treat loot until it's time for the big move. That way, they'll have something to look forward to along the way.
Do your research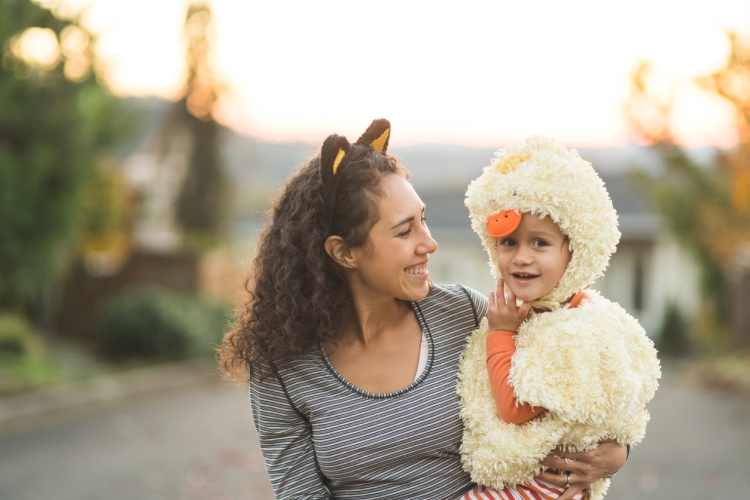 When you move to a new place, there's a lot to learn. It can be jarring to trick-or-treat in a brand-new area, especially if your kids are very young, so do your research before heading out in search of candy. To find specific trick-or-treat times for your area, contact your local police department. While you're researching, you might even discover special events that your new community is hosting!
Make the most of it
What matters is making the most out of the experience for you and your family. Whether you're packing up your old house or unpacking in the new one, play Halloween movies or set the atmosphere with creepy Halloween sounds. You'll see that a little goes a long way to get in the spirit.
Keep these simple, fun, and spooky tips in mind to have the best Halloween possible – even during a move.