At JK Moving, our team is the heart and soul of our success, and we take great pride in spotlighting the dedicated team members who make our organization thrive. In this edition of our Employee Spotlight series, we are excited to introduce you to Steve Chargois, Assistant Controller of Household Goods.
A career journey of adaptation
Steve's career path has been a journey of self-discovery and adaptation. Initially setting out to pursue a career in medicine, he realized early in college that it wasn't his true calling. Shifting gears, he ventured into the world of business and found his niche in accounting. He was drawn to the strategic aspects of the field and how it could be intertwined with his mathematical skills. Steve's professional journey began with KPMG, but he soon transitioned to Daryl Flood Warehouse and Movers, a decision that would shape his career significantly.
Starting as a staff accountant, he steadily climbed the ladder, eventually becoming the CFO of the organization. His proudest moments include overseeing the sale of the company and ensuring its continued success under new ownership. Throughout his tenure, Steve placed a strong emphasis on financial strength, enabling the company to seize opportunities as they arose.
Choosing JK Moving: Steve's leap into the unknown
After nearly 28 years with his previous organization, Steve faced a crossroads in his career.  He was contemplating leaving the moving industry when he heard from David Cox, JK Moving President. Impressed by the reputation of JK and the mutual respect between his former employer and JK's leadership, Steve decided to embark on a new adventure. He appreciated the company's culture, values, and, most notably, the high level of accountability he observed among his colleagues.
The decision to leave behind the van line agent work that had been a part of his previous role was liberating. Steve has found renewed enthusiasm in his role at JK Moving and has embraced the challenge of tackling new responsibilities.
A true Texan with a heart for family
Originally hailing from Lake Charles, Louisiana, Steve has called Texas home since 1994. He proudly considers himself a Texan now, having spent more time in the Lone Star State than his home state. Steve is a devoted family man, married with three grown children and a two-year-old grandson. His family is abundant in "grand dogs," so every gathering includes both human and canine family members!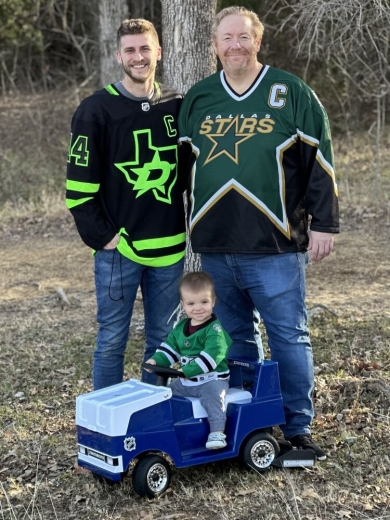 Passions beyond the office
Outside of work, Steve has developed a deep passion for hiking, particularly in the picturesque North Texas landscapes. He and his wife enjoy their outdoor adventures. Additionally, Steven is a dedicated sports enthusiast, especially when it comes to football and hockey. His love for hockey started when he moved to Dallas in the same year that the Dallas Stars arrived. This passion has even extended to his children, who share his enthusiasm for the sport.
Looking ahead: Balancing personal and professional goals
In the future, Steve hopes to welcome more grandchildren into his life while continuing to explore new destinations with his wife. On the professional front, he relishes the opportunity to build and mentor teams, nurturing their growth and helping them excel. His passion for strategic planning remains unwavering, and he looks forward to the adventure that awaits at JK Moving.
Three words that define Steve Chargois
When asked to describe himself in three words, Steve chose three that reflect his ambition for personal and professional growth, his dedication to strategic thinking, and his unwavering commitment to financial success. These words – "Ambitious," "Strategic," and "Profitability" – paint a vivid picture of a dedicated and forward-thinking professional.
We're honored to have Steve Chargois as a valuable member of the JK Moving team. We look forward to seeing his continued contributions to our organization's success and the growth of our team.
If you or someone you know is interested in a career with JK Moving, please visit our Careers site to learn more!