Celebration is in the air as JK Moving enjoys two wins in the 16th annual Stevie® Awards for Sales & Customer Service, the world's top honors for customer service, contact center, business development, and sales professionals:
Best Use of Technology in Sales
GOLD STEVIE® WINNER
JK Moving
Business Development Executive of the Year
GOLD STEVIE® WINNER:
Ken Cohen, SVP, Business Development and Consumer Sales, JK Moving
More than 2,300 nominations from organizations of all sizes and in virtually every industry, in 49 nations and territories, were considered in this year's competition. Winners were determined by the average scores of more than 170 professionals worldwide on seven specialized judging committees.
Recognition of our commitment to service excellence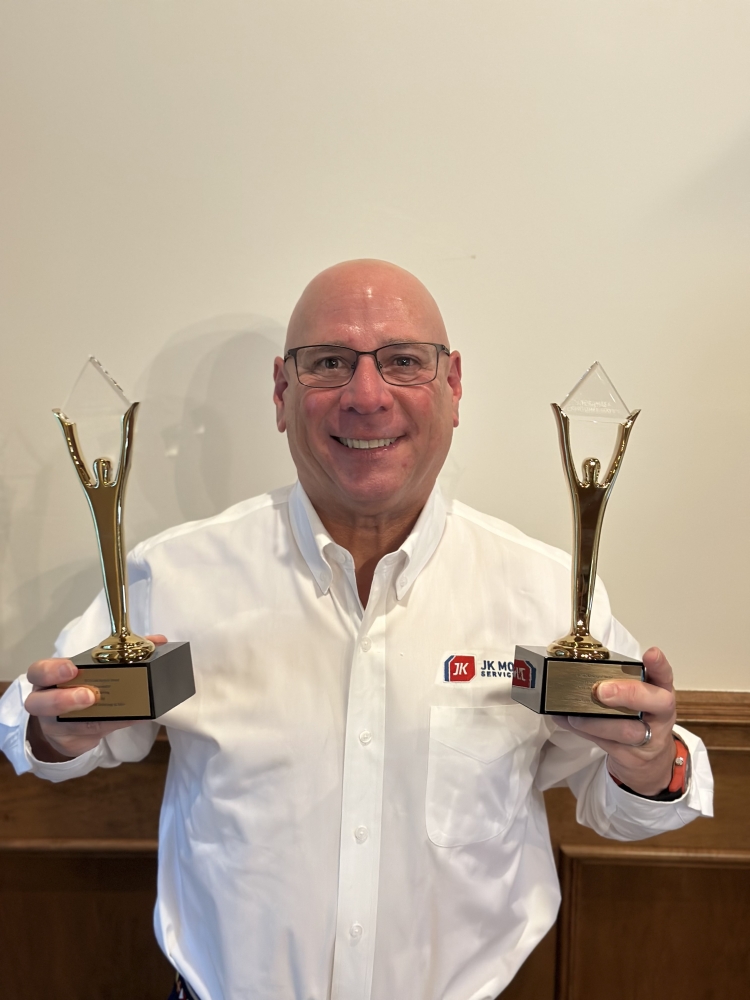 JK Moving Services is a 40-year-old business proudly built from the ground up. As the largest independent moving company in North America, we handle approximately 20,000 moves a year, including local, interstate, and international relocations. Service excellence is a pillar of our business, and the recognition of the Stevie Awards affirms that our efforts to anticipate, meet, and exceed our customers' needs have been a success.
Ken Cohen shared the following regarding the Stevie Award® recognition, "While I am truly honored, I want to acknowledge that these are JK awards, and I have the privilege of representing a company that understands the customer journey and service excellence."
The winning solution: Technology in sales
Just as JK Moving strives to be the most reliable and effective partner to its customers, the need for outstanding partnerships in technology was a critical consideration as the company sought ways to improve the customer experience and to identify opportunities to expand the services it offered. Priority was focused on partnering with data-driven solutions providers to help transform marketing and sales effectiveness through modern technology.
Under Ken Cohen's leadership, JK Moving pursued innovative solutions and developed collaborations with tech companies including Talkdesk, Yembo, Observe.AI, and Pipes.AI which yielded remarkable results. Armed with AI-driven technology, JK experienced a rapid evolution in its operations by uncovering fresh new ways to improve offerings, service delivery, and overall performance. A stunning quarter-over-quarter growth in sales and business resulted from the implementation of a new contact center solution with improvements including:
Call volume increase from 20,000 in 2019 to 150,000 in 2021, and still on the rise today.
Transitioning from a 64% abandon rate to an answer rate of 93.5% and an average hold time of 28 seconds.
Metrics that provide a data-driven view of call acceptance rates, abandons, and callbacks.
Improved quality of interactions as a result of direct feedback to sales agents.
The dual honors in the best use of technology in sales and the recognition of Ken Cohen as Business Development Executive of the Year are a source of tremendous pride for JK Moving. The recognition is deeply appreciated, but even greater is the reinforcement that success comes from staying true to our ideals of striving to always be the best and living by our core values and brand promise of care and respect. JK has become a global leader in the relocation and logistics space, yet focuses each day on what matters most: our customers, our employees, and our community.
About the Stevie Awards
The Stevie Awards for Sales & Customer Service are the world's top honors for customer service, contact center, business development, and sales professionals. The Stevie Awards organizes eight of the world's leading business awards programs, also including the prestigious American Business Awards® and International Business Awards®.
Winners were announced during a gala event attended by more than 400 professionals from around the world at Caesars Palace in Las Vegas, Nevada on Friday, March 3. Details about the Stevie Awards for Sales & Customer Service and the list of Stevie winners in all categories are available at www.StevieAwards.com/Sales.