This year, JK Moving celebrates its 40th year of continued growth and commitment each day on what matters most: its customers, employees, and community. The story of how Chuck Kuhn, Founder/CEO of JK Moving, bought his first moving truck at 16 years old may be a familiar one, yet what many might not know are the stories of the early days at JK – the building blocks that shaped JK Moving into what it is today.
A family business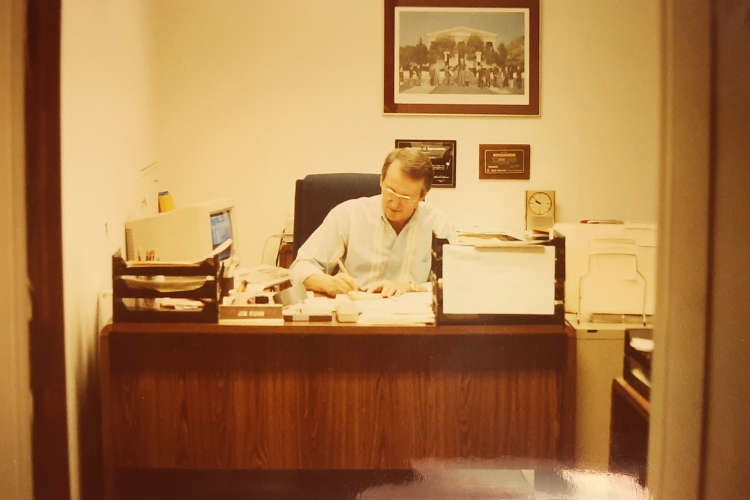 Given that Chuck started JK in the basement of his family's Annandale home, it is not surprising that his parents, Jim and Shirley, joined their son at JK Moving after retiring from careers with Bell Atlantic in order to help grow the company. Jim would copy maps and draw routes for the crew to follow during deliveries, provide quotes to customers, and schedule estimates while Shirley worked in accounting.
Those who worked for the company when Jim and Shirley were involved in the business remember fondly joining the Kuhns for dinners and feeling like they were part of their second family. JK CIO Paul McCullough, who started his JK journey as a crew member, remarked on the culture, "We were truly a family. With Chuck's mom and dad working at the company, we were all made to feel that we were a member of that family and that's transcended our culture."
A quarter a day
Before the availability of mobile phones, the sales team and crew foremen would carry a pager and a bag of quarters. Every morning, Jim would hand them out during dispatch or during sales meetings to use in case anyone on the team had to stop at a payphone to contact the office. Watch Paul McCullough as he recalls those early days of dispatching crews:
A little bit of everything
Many employees who have been working at JK since the beginning remember having a hand in various departments. Tina Buckley, Executive Assistant to Chuck Kuhn, recalls  when she first started: "We all pitched in; we all did what we had to to. Back then, I could dispatch a crew, I could bill on a military move, I could answer a phone and give an estimate. Back then, you did it all."
Doing what it takes
Since the early days, JK has been committed to delivering customers' requests successfully and on time, no matter what. An example of this took place in the early '90s. It was late one night and the drivers were shorthanded, leaving no one to fulfill a delivery going to Tennessee. Going against the advice to wait until the morning to deliver the shipment on time, Chuck jumped in a truck and drove all night to deliver the customer's belongings as promised.
This dedication to the customer experience is what started it all, and JK continues to follow through with its brand promise of care and respect by focusing on what matters most.
You might also be interested in: