SiriusXM's Road Dog Trucking Radio – The Dave Nemo Show
David Cox, EVP of JK's Residential Services Team, joined Michael Burton of SiriusXM's Road Dog Trucking Radio – the Dave Nemo Show this month to discuss JK Moving Services' over-the-road Class-A CDL drivers and the earning potential and benefits offered by the company.
Click below to listen to the full interview: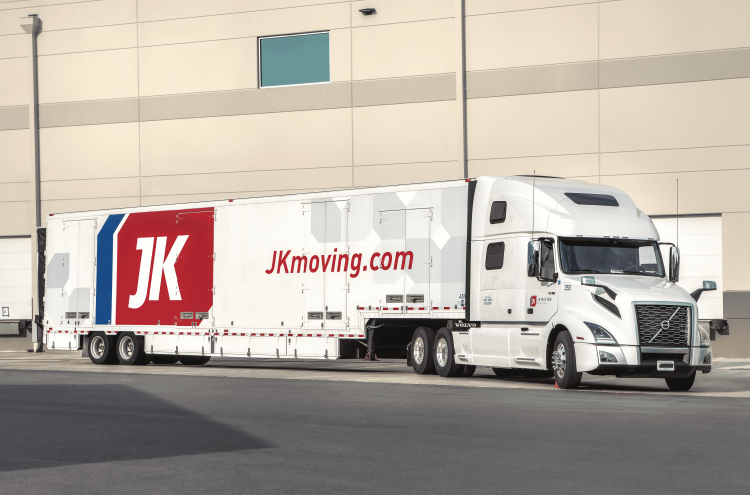 Michael Burton:
Good morning and welcome back. It's Michael Burton sitting in for, well, it's just the Dave Nemo show. Jimmy Mack usually does today, and I'm sitting in this last hour for him and my very special guest is Mr. David Cox, who is the Executive Vice President of JK Moving Services. And I wanted to tell you good morning and glad to have you in. I'm really looking forward to this conversation because this is a different group of people that we really… This is an amazing group of people. It really truly is. I mean, all truckers are amazing. All truckers do amazing things under the worst circumstances, but your drivers and your employees, David, they are something special.
David Cox:
Well, Michael, thank you number one for having me on the show, I'm very proud to be here and to answer your question. Our drivers, we like to describe them as unicorns because of the skillsets that they have to have. They have to have all of the skills to operate the truck and follow the safety regulations associated with being a truck driver and living on the road. They also have to have the skillset of interacting with a customer who's going through the third most stressful event that you can go through in your life. That's moving. And they, in addition to those two things, they also have to have the physical to carry furniture in and out of the house and load and unload those vehicles. So it's really a unique skillset for the household goods industry driver. And we're very fortunate to have a number of just top notch performers in that arena.
Michael Burton:
Well, out there in this world, and especially in this wonderful world of trucking, we have a number of drivers who, through whatever personal training they've had in their lives or whatever expectations they have, not only the great drivers, not only do they have an appearance which commands a little bit of reassurance that says, "Oh, my things are being taken care of safely because this guy's not wearing flannel pajama pants and he looks and talks like somebody who knows my furniture." And it may be a piece because it's hard to look at a piece and know what it is. I know I have a couple pieces of my house sort of 500 years old. And they may look like they need to be thrown down a flight of stairs, but they don't. There won't be anything left of them if they do. So you turn over these possessions that people have collected and treasured and so forth, and you want to make sure they're in good hands. And there are a certain reassurance that that gives. Now, on the other hand, David, yeah we have some very high expectations for JK Moving Services drivers, but the compensation's there as well. You have a new compensation package, you've stepped up to the plate with 401ks and a company health plan. Can you talk about that just a little bit?
David Cox:
So it's an interesting time in trucking. I don't think there has ever been more appreciation for the work that your listeners provide than there is today, given the challenges of COVID and the supply chain difficulties. So the ability to bring people in and live that lifestyle of being a trucker is more appreciated than ever. What we've tried to do to bring in the best and brightest is provide a compensation plan that acknowledges the lifestyle. So we've raised our compensation levels significantly in the last year, those who are on our over-the-road program earn a minimum of $100,000. That's a pretty extraordinary number to reach and a number of our drivers earn significantly more than that.
In addition to that, I was making my rounds and talking to a number of our long distance drivers this week and they have lifetime events just as we all do. I was talking with two gentlemen that just celebrated the births of their sons, and that's going to require time off the road. Our compensation structure is designed so it levels out the compensation over the year, where drivers are typically used to not having an income when they're off the road and have downtime, we've structured it so that they have a steady income throughout the year. So in addition to the high level of pay, the ability to have a consistent paycheck has also been a really big deal for our guys and very much appreciated. Thanks for asking that question.
Michael Burton:
Well, people need to be aware of this because I have friends and family members and so forth who have graduated from medical school, who have graduated from law school, and they don't make six figures their first year out of the bucket. They struggle along for many, many years before they do this, and if you've got the right skillset, this is certainly something that's available to someone. And again, the unicorns, special people, but very honestly, this is a great way to make a living.
David Cox:
Well, Michael, what's been very encouraging for me to see over the last year as the pandemic and the COVID challenges have created massive strains on the supply chain, is the industry, not just household goods, but the trucking industry in general has been forced to raise compensation to the levels candidly that drivers have always deserved and now it's getting there. The decisions that drivers make in that lifestyle, being on the road while kids are having birthdays, being on the road while graduations are taking place. They pay a price for the lifestyle and to be able to have an earnings program that rewards that is very encouraging for us. Our owner and founder started the company at 16 years old, and he's the original JK truck driver. He has never lost track of those roots of understanding how important it is to be able to attract the best in the industry and so we always put the needs of the driver first.
Michael Burton:
Well, you get into a contract with your drivers and you get into a contract with the people you serve and it's very, very important to fulfill that contract every single time. You know, you can have a bad run here or a bad run there for a lot of things, but when it comes to your business of moving people's lives and possessions around, you can't afford an opportunity to do have a mess up. You really can't. And it's this one, it's a no fail policy.
David Cox:
Michael, I couldn't agree with you more and along those lines, given the lifestyle that a driver leads, we say to anyone in any role in the company that's not operating a vehicle, if you're not driving a truck, your role is to support those who do. To keep commitments, to follow through, to be available, to solve problems, and to remove stress. So that's a big part, culturally, of why we've been able to retain so many great drivers is we require anyone who's not in those roles to be supportive and available and disciplined in meeting the needs of the driver.
Michael Burton:
I love it. Let's take a quick break here and when we come back on the other side, I want to talk a little bit about the environment, the corporate environment, at JK Moving. All right?
David Cox:
My pleasure. Thank you, Michael.
Michael Burton:
We'll be back right after this.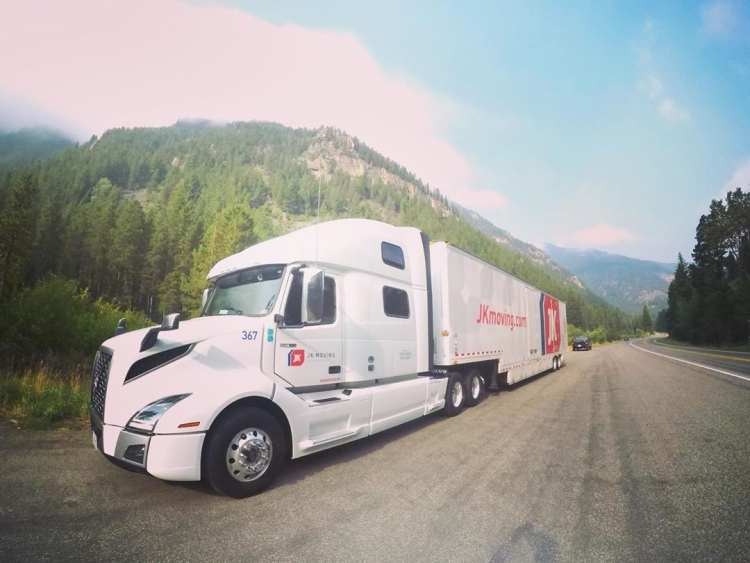 Michael Burton:
We are back and my guest is Mr. David Cox from, who is the executive vice-president from JK Moving. David, I want to ask you about one thing, because one of the most interesting things I've seen about JK Moving is that, just doing what you need to do to get through the week can sometimes be a challenge, but that's not how you grow. You grow by thinking about the future. You grow by thinking about what's down the road, and there in Sterling, Virginia, you've made a huge commitment, not only to your drivers and your company, but your community and the future. Can you talk a little bit about that?
David Cox:
Yeah, absolutely. Let me take the community focus first because it's the most rewarding topic to talk about here and is a very important part of our culture. So we come from a service industry. If you're going to work in the moving industry, you've got to put service to others first and we always have. Where we put our money where our mouth is on the service in the community side is we've invested in creating a nonprofit 501-C3 organization called the JK Community Farm. Our owner and founder dedicated a hundred acres of land that's been donated to the farm. It's staffed by volunteers that assist in the planting and harvesting of organic crops and proteins. And we fed, in the last year, we provided over 160,000 meals to the food insecure within the Washington DC Metro area. It's a piece that we're very proud of. So our team members will spend time out during the workweek volunteering at the farm and being a part of that culture and it's just become a part of who we are. And thanks for asking about that. We're very proud of our engagement with the community farm.
Michael Burton:
Well, it's one thing to have a job you're proud of, and many of us do. It's also something else to be involved in a job that you're proud of along with for a company that you're proud of. And when you look forward to some of these things and you see what is going on in the area and what the company does and what the company… The way you take care of not only the drivers that work for you, but to help them channel their best efforts and so forth that being a great member of the community, there's a lot to be said for that. It makes the job that much more satisfying when you have that ability to step out and do some good and I'd like to talk to you a little bit about how you attract your unicorns, because that's a very interesting part of this business because you've got to have the right people.
David Cox:
You bet. What a great question. And again, as I've made my rounds doing check-ins with a number of our long distance drivers this week, I was reminded that good people come from good people. We have two of our long distance drivers are in the process of bringing their sons into the business, including, we have a promotion program where we bring a driver on board in a non CDL capacity and we have scholarships to put them through a class B CDL training and class A CDL training and so we can pass a young man or young woman quickly up into those income levels where they can make over $100,000. And just the thought that fathers are bringing their sons into our company is a sign that we're getting it right.
Michael Burton:
Yeah. And that's a huge thing. I mean, I know a lot of drivers personally, I have friends who are drivers and many of them, they tell their sons and daughters, if you ever think about going into the business, I'll throw you out of the house and hi you in the head because you're not going to do this. You know? And yet, when somebody has a great job and has something others can do, then certainly there are very few places, as we mentioned with law school and medical school, I mean, there are very few places where you can start out at this level and then you still have the opportunity to work your way into the company.
David Cox:
Well, and that's exactly right. So what we provide that is our secret sauce in recruiting is we provide outstanding pay. We provide growth opportunities for those who want them, including positions in warehousing or in dispatch or in customer care or in international coordination, you name it. We've got those opportunities available and we treat people, right. It's a great sign when our own team members are referring their friends, are referring their family members. It's a place that they want to share with others. So that's part of our secret sauce, Michael.
Michael Burton:
Well, how many of friends and families you have now? That's a great bunch of people, but you've put all these parameters up and all these qualifications up and so far, you've managed to attract a lot more people to this business than I thought.
David Cox:
Well, we're growing rapidly. So there's always room for more.
Michael Burton:
And where are you wanting those people relocated at?
David Cox:
Great question. So our headquarters is in Sterling, Virginia. We also have facilities in Gaithersburg, Maryland. We're in suburban DC. Having said that, our long distance drivers live all over the country. We have drivers who live in Florida, in California, in Texas, in Idaho. They're spread out all over. And so we can get them home time, wherever home is, and we're recruiting from all 48 states.
Michael Burton:
Well, David it has been wonderful talking to you. Again, Mr. David Cox, the executive vice-president of JK Movers. And with that said, I really want to tell you how glad we are to have the association that we do with you. That we look for very special people. You are definitely in that category and it has been a great association. I hope to see a lot more of you in the near future.
David Cox:
Michael, it's been my pleasure to be with you this morning. Thank you so much.
Michael Burton:
Thank you. Again, Mr. David Cox, executive vice president. And David, just before you go, can you tell me, after I explained to Dave that I don't want to be in this job anymore and I'm getting out of radio and I don't tell him that I'm going to driving for JK Movers. Who do I call?
David Cox:
Yeah. I'm going to give you my cell phone number, Michael. It'd be privileged to have you on the team.
Michael Burton:
And the recruiting site, JK Movers.com?
David Cox:
www.JKmoving.com will take you right where you need to go. Just follow the prompts to the recruiting site.
Michael Burton:
All right. Well, David, thank you so much. It's great to have you with us. And as we wrap up today, I can't think of a better way to end it than talking about a great trucking company with great drivers. Thank you so much.
David Cox:
Have a great day, sir. Thank you.
Michael Burton:
You too. Bye-bye.
To learn more about JK Moving's over-the-road program, visit our Careers page.