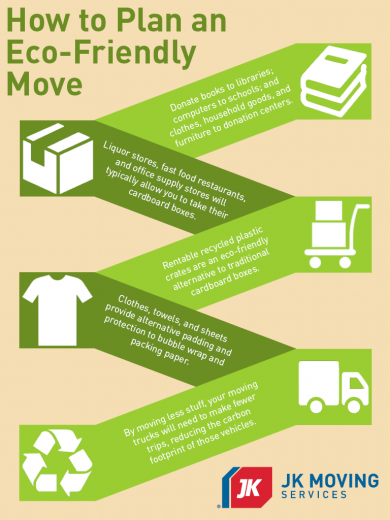 Moving can have a major effect on your environmental impact. Transporting household goods from one end of the country to the other could lead to filling up a landfill with cardboard boxes. Even moving within the same city will mean a moving truck emitting fumes into the air.
As we become more and more aware of our carbon footprint, eco-friendly practices have spread through all business industries.
For example, in commercial moving, plastic crates have become the standard. JK uses reusable plastic bins as part of its Boxless Move to relocate businesses. By using plastic containers instead of cardboard boxes, JK has saved an estimated 425,000 trees.
While the Boxless Move is the norm in JK's commercial moves, residential moving still relies heavily on cardboard boxes.
Residential moves don't have to have a large environmental impact. If you plan right, your next residential move can be eco-friendly.
Donate unneeded goods
If you have less stuff to move, you will have less packing and moving needs. Consider donating clothes to thrift stores, books to libraries, computers to schools, and even common household goods and furniture. Or host a yard sale to make a quick profit while getting rid of unnecessary clutter.
Collect recycled moving boxes
The primary benefit of new moving boxes is better support due to lack of wear and tear. However, gently-used moving boxes can offer similar quality to new boxes for less money or even free. Liquor stores, fast food restaurants, and office supply stores typically receive goods in cardboard boxes. Call ahead to ask, but many of these locations will give you these boxes for free.
Or stop by JK to choose from a selection of new, corrugated cardboard boxes for a range of needs. JK also offers gently-used cardboard boxes for free to booked customers on a first-come, first-served basis.
Rent plastic bins
If cardboard boxes are a deal breaker for you, consider renting plastic moving crates. Companies such as Rentacrate and Lend A Box serve the northern Virginia and D.C. area. These moving crate rental companies deliver the plastic containers to you to pack. Then once your move is complete and your bins are unpacked, they pick them up from you.
Repurposed packing supplies
Rather than purchasing moving supplies, think about using things like clothes, towels, and sheets to protect your breakables. These items will need to be moved anyway, so by using them as padding, they will serve a dual purpose.
Reduce vehicle use
Vehicles, especially trucks, are major pollutants. If you have followed the steps above, you should need to make fewer vehicle trips from point A to point B. Using a truck is typically unavoidable, but reducing the usage of that truck is doable. Also, the trucks at certain moving companies are more environmentally sustainable than others. All of JK's trucks exceed EPA emissions standards.
On top of reducing your load, using recycled cardboard boxes or plastic containers, and repurposing moving supplies, research the sustainable initiatives local moving companies practice. The team at JK Moving Services is committed to reducing its carbon footprint. You can commit to "go-green" too.
Do you have additional green moving tips? Please share your ideas in the comments below.