A team of JK Moving employees worked together on Saturday, May 18 to help plant peppers during the first annual JK Community Farm Plantathon.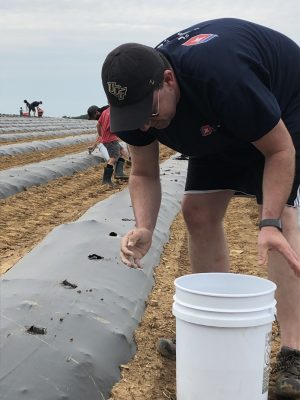 The JK Community Farm believes that everyone should have access to healthy and organic food. To that end, the Farm is dedicated to providing fresh, organic fruit, vegetables, and protein to the food insecure. In addition to providing access to healthy food, the Farm provides food education to make future generations in the community aware of the importance of food, where it came from, and how it can impact your health. A healthy diet is a priority for reducing chronic diseases, including obesity, diabetes, cardiovascular disease, and cancer.
During the Farm's first year of operation, crops were planted and then harvested from one acre of the 150-acre property.This year, the farm will expand to seven acres and will benefit from the addition of seven beehives and a dedicated beekeeper. The hives help with the pollination of crops, including squash and watermelon. It can take between seven and ten bee visits to a melon plant to get a marketable melon.
JK employees make a difference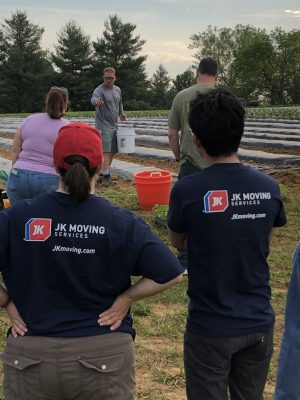 During the Plantathon, JK Moving volunteers learned about the planting process. They worked together to plant 1,800 pepper plants during each two-hour shift — 5,000 peppers planted!
2018 fundraising efforts allowed the Farm to build a greenhouse to start plants from seed on-site and a high tunnel for season extension. This is important to provide fresh food for the families it serves through the winter. In total, more than 120 volunteers transplanted 9,000 seedlings from the greenhouse to the field during the Plantathon.
Watch JK employees in action at the Farm below. And click here to see more images of our team during the Plantathon.
What's in store for 2019?
The Farm has ambitious plans for 2019, hoping to host over 1,600 volunteers. In fact, the first two months of the season brought over 300 volunteers!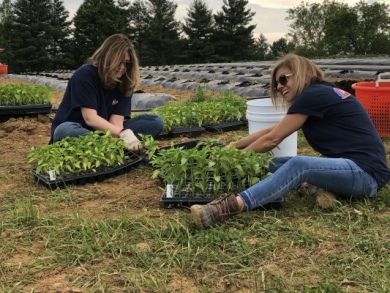 New crops added this year include poblano peppers, jalapeños, watermelons, cucumbers, carrots, and eggplants and will help produce 63,000 pounds of produce to donate. The Farm also planted perennial plant asparagus, which will be ready to harvest in 3 years, and will continue to grow back for 25 years. A generous grant from 100 Women Strong will help the Farm develop 12 more bio-intensive raised beds. The Farm donates 100% of the food it grows to its food bank and food pantry partners. Partners this year include Loudoun Hunger Relief, Food for Others, and Arlington Food Assistance Center.
Not only will the Farm donate the fruits and vegetables it harvests this year, but it will also donate 50,000 pounds of protein.
This year, seven school field trips have already benefited from an expanded education program, which will continue throughout the season. Visit the JK Community Farm website to find out how to take part in the educational programs offered or to learn more about volunteer opportunities.