According to a recent Gartner survey (shown below) nearly 74% of companies are shifting some employees (5-20%) to remote work permanently. Owners (60%) saying it will be 12+ months before they bring all employees into the office. With this shift in the work force, technology solutions are needed now more than ever.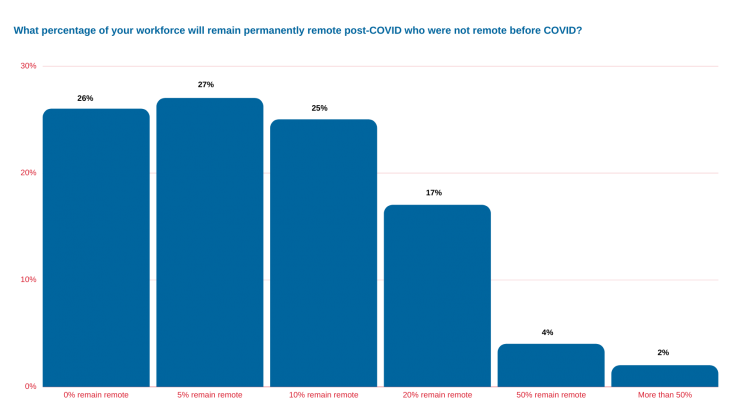 Technology Apps
When you do bring your staff back to into the office, employee safety is very important. You need to consistently communicate your return plan with your staff.  You can use an integrated workplace management system (IWMS), email, Microsoft Teams or Zoom meetings.
First, take a look at your existing technology before investing in other technology.  For example:
Integrated workplace management (IWMS) software includes a space and facility management software.  You can create a floor plan for space planning to allow for 6 feet social distancing.
Reservation technology tools like Robin, Teem, or MeetingRoomApp can be used to reserve desks and hoteling stations for your remote workers.
Human experience applications like iOffice gives your staff greater control over where and how they work.  You can book a room, see which spaces have been used recently to adjust cleaning schedules, and keep track of visitors with automated check-in and notifications.
Self service or virtual receptionist kiosks can allow one (1) person to manage receptionist services for multiple locations.
Touch-less Lockers Tech
Touch-less lockers can be used for your staff that is using unassigned desks or workstations.  This allows your staff to keep their personal items secured in a locker when they are not in the office. The touch-less locker design is hygienic and Eco-friendly. It uses RFID technology which you can use with an access badge or with a mobile phone app.
UV Light Fixtures Technology
UV lamps is the latest tool to help prevent catching COVID-19. The National Academies of Sciences, Engineering and Medicine reported that "UV-C light has been shown to destroy other coronaviruses, so it will probably work on the novel coronavirus." This technology has been used in hospitals and food processing plants for years. Extensive research is being done to convert UV-C light to industrial uses and in-door air filtration.
For example, the New York subway system is using ultraviolet lamps to disinfect their trains during their daily nighttime shut down schedules.  There could eventually be an adoption of UV lamps for offices, airlines, cruise ships, restaurants, movie theaters and schools.
Digital Imaging Technology
Finally, digital access to reference materials is a must.  By digitally imaging paper files, you can eliminate onsite records storage in your office and store them in an archive center.  You can then re-use those filing areas for workspace to decrease density. In addition, this also gives your remote workers full accessibility to the reference materials while working off-site.
You might be interested in these articles as well.
Let's start planning return to work now