About Your Move
Full-Service Packing
Putting your household in professional hands. Elevate your move with expert full-service packing.
Get a Quote
As Low as 0% Financing Is Available
Turn your move into an affordable monthly payment. Getting pre-approved is easy.
Learn More
You take pride in your belongings. We do too.
Full-service moving and packing solutions
You take pride in your belongings. We do too.
Full-service moving and packing solutions
Stress-free packing and moving solutions with JK's expert services. Our trained packers and movers specialize in efficient and quick relocations, handling each item with thoughtful delicacy. Benefit from customizable packing services designed to save you time and eliminate worry. At JK, we prioritize your peace of mind, ensuring a seamless and stress-free relocation experience. Trust our experienced movers for a smooth transition
Why JK?
Expertise across every move: custom packing and moving for you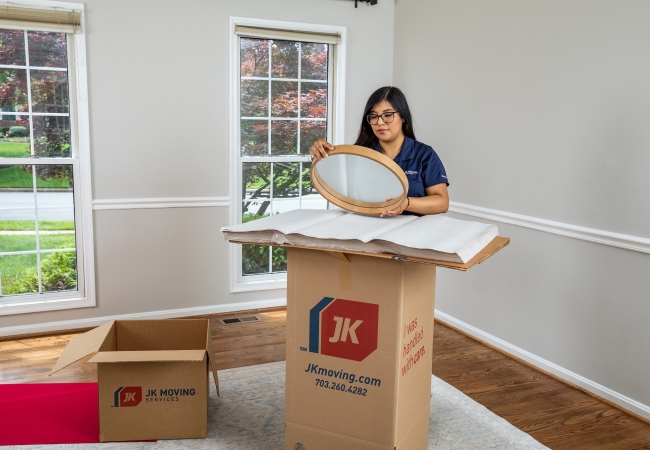 Full-service packing
Experience a seamless moving process with our precise wrapping, moving, and packing services. Our expert team ensures meticulous box selection and inventory-tagging for the utmost care. Take advantage of our partial packing options for added flexibility. We provide high-quality supplies and professional expertise, ensuring a comprehensive moving experience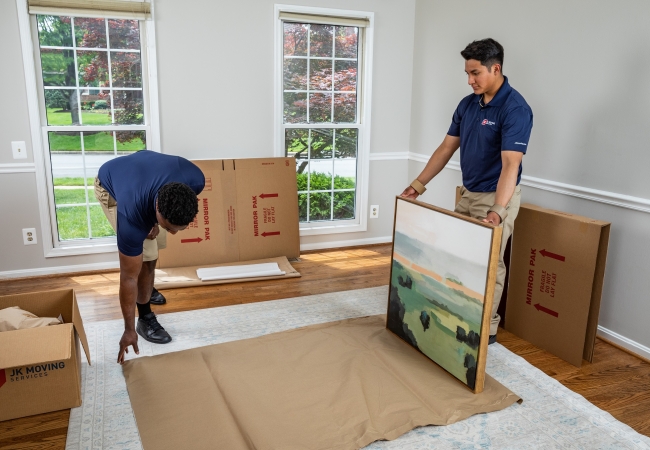 Fragile-only packing
You have the flexibility to choose the items you want us to handle with care. This includes fragile items, and we offer specialized item packing services using high-quality packing materials and moving boxes for a secure and reliable moving experience.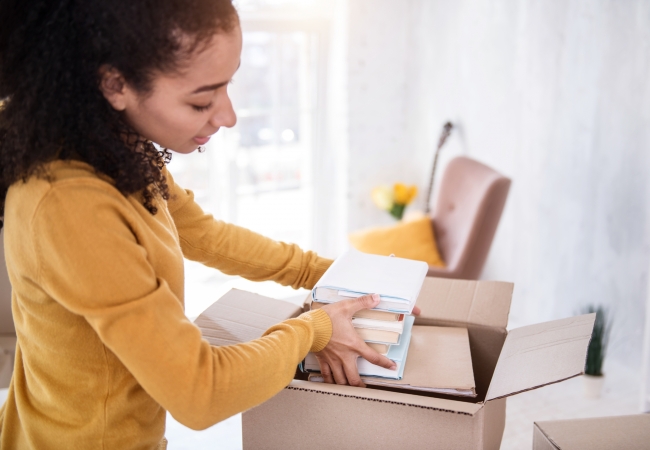 DIY packing
Explore a comprehensive selection of boxes, padding, tape, and supplies, all available from a single source.
The JK difference
From specialized packing to secure storage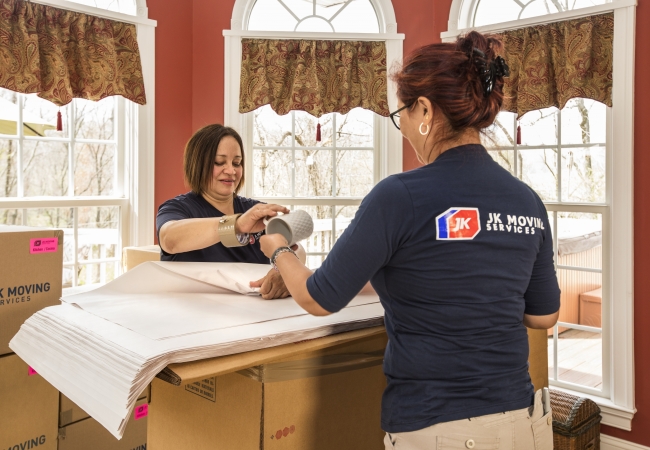 Specialized packing and labeling
Our experts are trained in a fully furnished, two-story house for a seamless full-service packing and moving experience. Complete floor coverings, protective plastic, and padding ensure meticulous prep in your home. Time-tested processes combine with individual attention to detail for each box.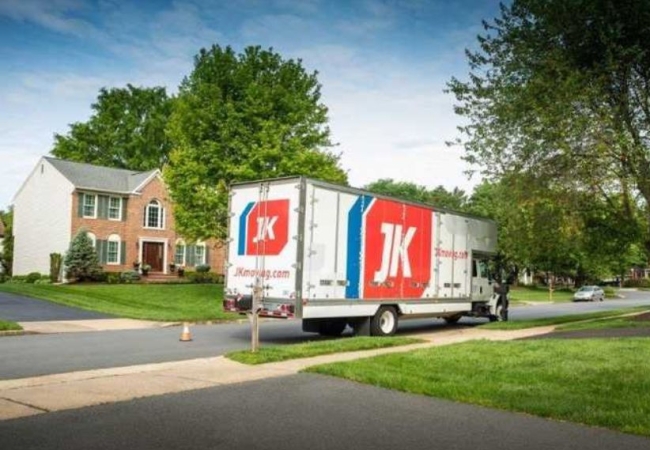 Personalized moving services
Trust our trained packers and movers to handle the heavy work with efficiency and care. Work closely with your dedicated moving and packing coordinator to tailor services to your specific needs. Take advantage of our secure storage facilities in Maryland and Virginia for items not making the moving and packing move. Our reliable moving truck services ensure a secure transport of your belongings.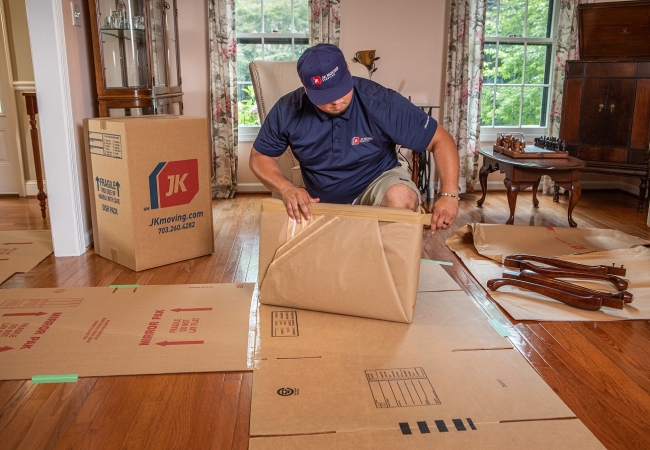 Meticulous unpacking services
Beyond the move, we offer unpacking services for your entire household. Please rely on our expertise to ensure your items are meticulously cared for every mile of the journey. Experience peace of mind as your belongings find their place in your new destination
Full-service packing FAQs
What levels of packing service does JK Moving offer?
We offer personalized full-service packing and moving solutions tailored to your requirements. Our comprehensive packing options cater to various preferences. Opt for our full-service packing, where our professional movers expertly wrap and pack all your belongings. Alternatively, choose fragile-only packing to specify particular items for extra care. If you prefer a hands-on approach, our DIY packing option provides you with the necessary tools to independently pack your items. Our diverse packing options ensure flexibility and customization to meet your specific moving needs.
What types of items can JK Moving handle during a move?
Our seasoned packers and movers bring extensive expertise to the table, adept at handling a diverse range of items such as sculptures, wine collections, antiques, and pianos. Whether it's a residential, commercial, or government relocation, we recognize the significance of your belongings. Our services include custom crating, ensuring specialized protection for delicate and valuable items during transit. Trust us to provide meticulous care and attention to detail for all your possessions, making your move a smooth and secure experience
What is a professional packing service?
Professional packing and moving services entail skilled experts overseeing the packing of your belongings throughout the entire moving process. At JK Moving, our professionals undergo extensive training to adeptly and cautiously wrap, pack, and label items. We prioritize customer service, ensuring that every aspect of your move is tailored to your needs. Our commitment to customized packing guarantees that your possessions are meticulously prepared for transport with the utmost care and attention to detail. Your satisfaction and the safety of your items are our top priorities
What is a full unpack?
A full unpack is a specialized service offered as part of our full-service move, where, upon arriving at your new destination, our dedicated team takes charge of unpacking your entire household. This comprehensive service involves the careful removal of items from boxes, unwrapping protective materials, and placing everything in its designated location. Opting for our full unpacking services ensures a convenient and efficient transition to your new home. Trust our move company to provide a seamless experience, allowing you to settle in without the hassle of unpacking.