Commercial Moving
Office Furniture Installation
The COVID-19 Pandemic has significantly impacted the workplace. Let JK's office furniture installation experts help with your Return to Office (RTO) business plans.
Experts in Office Furniture Installation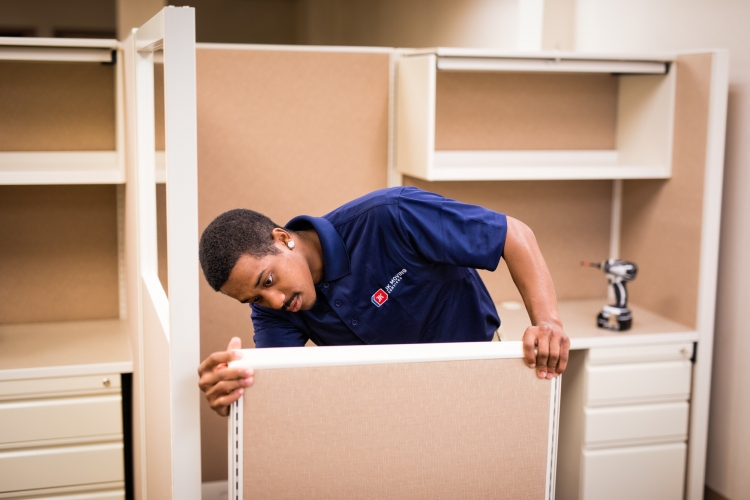 Our experienced system furniture Installers are trained in handling Steelcase®, Haworth® (certified) Herman Miller, Kimball®, Knoll®, Teknion and other major manufacturers. We will facilitate all disassembly, transport and reassembly of this furniture for your new facility. We can also assist with space planning and reconfiguration to maximize your space.
As businesses begin the transition back to the office, things will be different.  Health and safety will be the driving factors for employees' return to the office.  Workstations will no longer have the crowded café feel, rather they will be de-densified to maintain social distancing.
Shifting to larger work-spaces will cut your existing office capacity potentially by half or more.  Our Space Planner can assist you with transitioning conference rooms, learning labs, and break-out spaces into dedicated seating areas.  From there, JK's office furniture installers can assist you with:
Desk/workstation reconfiguration to create a "buffer zone"
Installation of modular private offices/demountable walls
Office furniture installation
Case goods furniture installation
Systems furniture installation
High density storage installation
Conference rooms and teleconferencing set-ups
Product receiving, storage, delivery and installation services
Our pre-planning service allow us to make sure that your installations are all done within your deadline and budget. Let us help you with your next furniture installation project.
Office Furniture Installation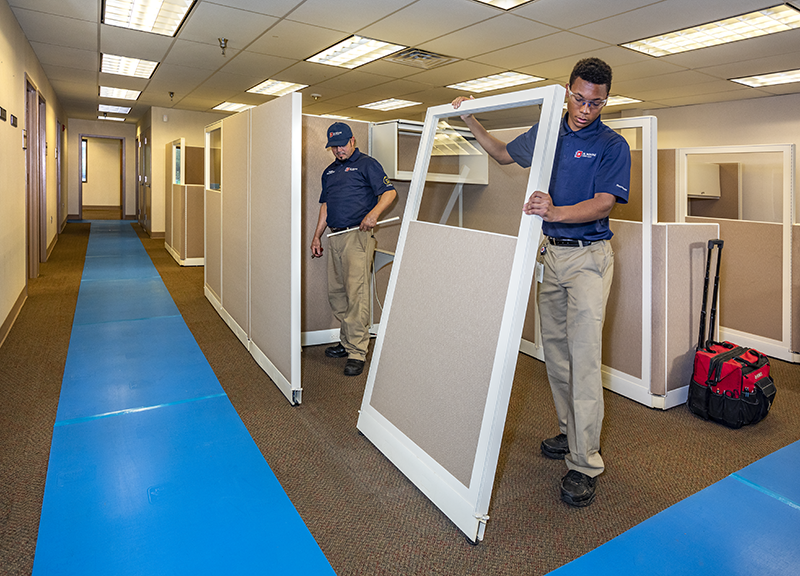 Office Furniture Installation
Watch a time lapse video of our installation team take a cubicle area for our customer, Social Driver, and make it into a collaboration area.
Watch Video
Second and third phase of the large furniture install went great. Thank you for our help with this project, overall everything went great. The crews were very professional.

Scott C. - Accenture Federal

Move Type: Furniture Installation

Move Date: August 2020
The JK team did an outstanding job! This was a very challenging task since it was existing stock not a design build - but somehow JK's team pulled it off.

Dick V. - AAFMAA

Move Type: Furniture Installation

Move Date: February 2020