Commercial Moving
Office Furniture Installation
JK's experienced furniture installers are here to provide a stress-free office furniture installation.
Experts in Office Furniture Installation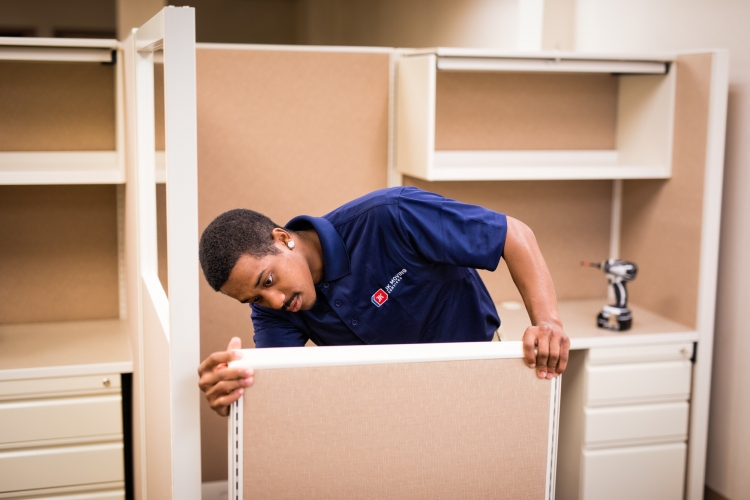 JK offers commercial furniture installation services for all major commercial furniture manufacturers such as Steelcase®, Haworth® (certified) Herman Miller, Kimball®, Knoll®, Teknion, as well as many others.  Our installation team has experience with workstation, private office, conferencing, and benching solutions, as well as numerous lines of ancillary and bespoke furniture.
We specialize in new furniture installation, reconfiguration of existing furniture, and tear-down/removal/storage and re-install of existing furniture.  Our extensive experience with many lines of furniture and various product generations ensures that your project will be handled by knowledgeable and qualified crew that is dedicated to customizing your experience. Your JK team will strive to create a worry-free and pleasant experience by acting as consultants and experts as they create your unique workspace.
COVID-19 – Return to the office
As businesses begin the transition back to the office, things will be different.  Health and safety will be the driving factors for employees' return to the office.  Workstations will no longer have the crowded café feel, rather they will be de-densified to maintain social distancing.
JK works with designers, facilities teams, and furniture dealers to ensure that your workplace meets health and safety guidelines and protocols.  We work with your team to facilitate a smooth and safe transition with our consultative approach and dedicated professional team from relocation concept through to the last unpacked box.
From there, JK's office furniture installers can assist you with:
Workstation/systems furniture installation
Benching and table solution installation
Private office/casegoods installation
Ancillary furniture installation
Conference room and teleconferencing configurations
Ergonomic accessories and adjustments
Height adjustable tables and accessories installation/retrofit
Demountable wall installations
High density storage installation
Reconfigure or decommission of existing furniture
Our pre-planning, technology, and dedicated team of professional experienced installers will ensure that your installations are done within your deadline and budget. Let us guide you through your next furniture installation project.
Office Furniture Installation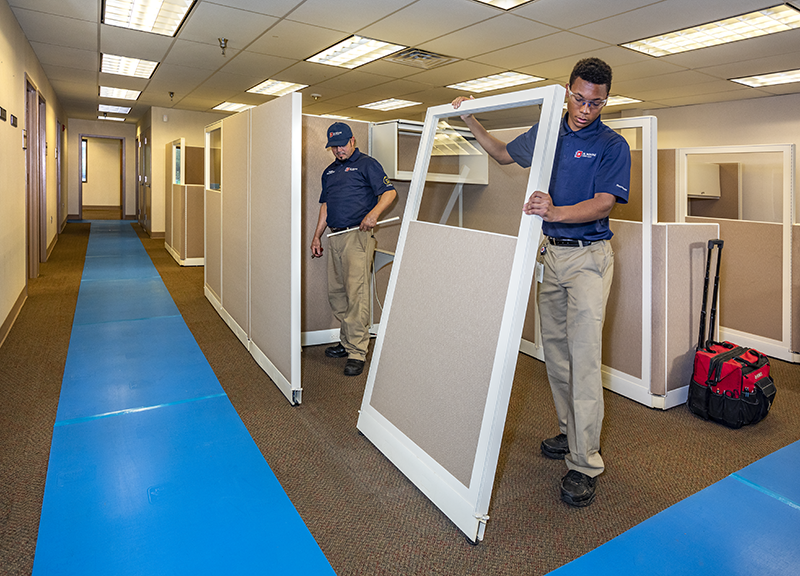 Office Furniture Installation
Watch a time lapse video of our installation team take a cubicle area for our customer, Social Driver, and make it into a collaboration area.
Watch Video
Second and third phase of the large furniture install went great. Thank you for our help with this project, overall everything went great. The crews were very professional.

Scott C. - Accenture Federal

Move Type: Furniture Installation

Move Date: August 2020
The JK team did an outstanding job! This was a very challenging task since it was existing stock not a design build - but somehow JK's team pulled it off.

Dick V. - AAFMAA

Move Type: Furniture Installation

Move Date: February 2020