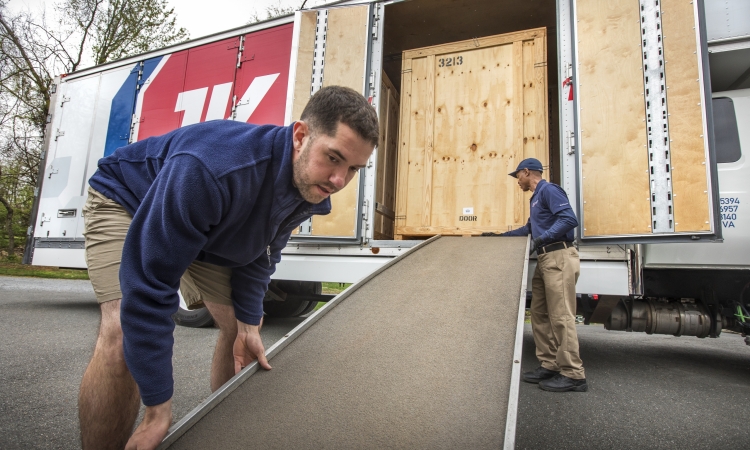 Know what you'll be paying—before you move
JK Moving Services recommends and provides free, in-home estimates for residential moves.
The estimate on your moving quote is largely determined by just a few things, for example the number of items you're moving, their weight, and, in a long-distance move, the distance you'll be moving.
To find a comfortable price, with no post-move surprises, JK recommends getting a moving quote in advance.
We also recommend reading up on your responsibilities as a moving customer:
How are prices estimated?
A JK move consultant will come to your home to conduct a complete review, noting things like:
Oversized furnishings
Narrow hallways
What you will pack vs. what we will pack
The distance of the move
These details help us determine the requirements of your move: the hours needed, the number and type of trucks, the size of the crew. For long-distance and international move, we'll factor in the estimated weight of your shipment, too.
Local, long-distance, interstate, intrastate—what does it all mean?
This depends on the where you're going and the residential company you're moving with.
At JK, we consider a local move to be any move within our commercial zone, from Fredericksburg, VA to Boonsboro, MD and from Winchester, VA to Annapolis, MD. Any move outside of this zone is long distance. So it is possible to make a "local" move across two states in the Washington, DC metropolitan area (for example, from Bethesda, MD to Arlington, VA).
Interstate means across two or more states.
Intrastate generally refers to a move within the same state. In Virginia, JK considers any move of less than 30 miles inside of the state as local, rather than intrastate, as long as it falls within our commercial zone.
Your move consultant or move coordinator can provide guidance on any state and federal regulations your move will need to follow.
What is the difference between "non-binding" and "binding" estimates?
A binding estimate obligates you to pay the quoted price, even if your final shipping weight or number of items decreases OR is less than estimated between the time of the estimate and the move.
A non-binding estimate bills you for the final weight of your shipped goods; the estimate merely serves as a preliminary approximation of costs.
What are not-to-exceed estimates?
Sometimes referred to as a guaranteed price or price protection, a not-to-exceed estimate gives you the option of paying they price quoted in the estimate or the actual cost, whichever is lower.