Moving can be an exciting yet stressful experience, especially when you put your cherished belongings in the hands of strangers to transport them to your new home. While you've done your homework and hired a reputable moving company, it's natural to seek additional protection and peace of mind during your move. This is where valuation coverage comes into play, providing added security in case of any moving incidents or unforeseen accidents. However understanding valuation coverage and its differences from insurance can be confusing. Read on to learn more about valuation coverage to help you make informed decisions and ensure your belongings are well-protected during your relocation.
Valuation coverage vs insurance
Valuation coverage is not insurance, even though this is a common misunderstanding.
Insurance is provided by licensed insurance companies or agents and covers loss or damage due to acts of God, fire, and or other unforeseen events. For example, if a hailstorm rolls through during your move and damages your items, your insurance company would cover it.
On the other hand, valuation coverage is offered by moving companies and safeguards your belongings against damages due to events within the mover's control. If a mover trips walking up the stairs and drops a vase, it would be covered by valuation.
By law, the Federal Motor Carrier Safety Administration requires moving companies to offer two types of valuation coverage: released value protection and full value protection.
Released value protection: Basic coverage
Released value protection is automatically included in your move quote at no additional cost. It covers your items at $0.60 per pound, up to a maximum of $50 per item. However, this basic valuation coverage is based solely on the weight of your goods and not their actual value. What this means is, if an item weighing 100 pounds, valued at $800, is damaged during your move, the moving company would compensate you the $50 item maximum.
As this option may not provide adequate protection for your items, careful consideration is essential before opting for it. If you choose this basic valuation coverage option, you must sign your bill of lading to indicate that decision.
Full value protection: Comprehensive coverage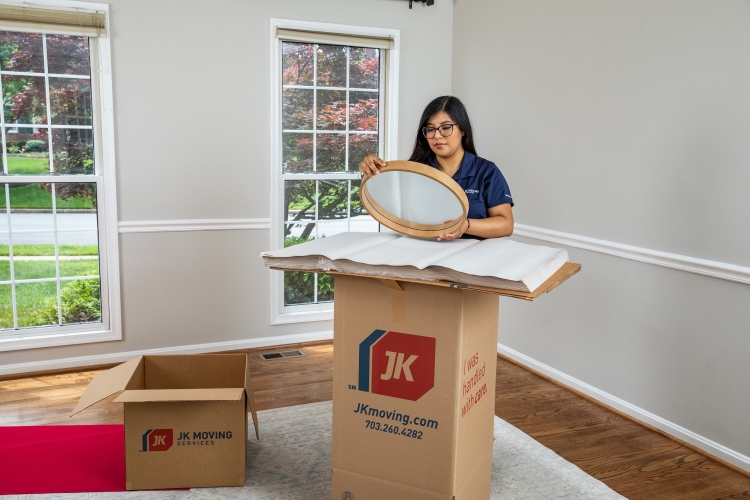 Full value protection covers your shipment based on the value you assign to your belongings. If any items break or gets damaged during your move, the moving company has three options: repair the item, replace it with a comparable item, or offer a cash settlement equivalent to the item's current market value. This option provides a more comprehensive coverage for your belongings, giving you greater peace of mind.
Determining the right amount of coverage for your needs
Choosing the appropriate coverage level depends on your preferences and the value of your belongings. The moving and storage industry standard is $6.00 per pound. However, some independent insurance companies suggest a valuation between $8.00 – $12.00 per pound for household goods. You can also consult your homeowner's insurance policy to determine the noted value of your home's contents.
Filing a claim: Timelines and procedures
The timeline for filing a claim for damaged or lost goods varies depending on the type of move:
For local moves, you have 10 days after the delivery date to file a claim.
For intrastate moves, you have 30 days after the delivery date to file a claim.
For interstate moves, you have 9 months after the delivery date to file a claim.
For all military and government moves, you have 75 days after the delivery date to notify the carrier about the damage or missing items. Then you have 9 months after the delivery date to file a claim.
Limitations to movers' liability
Certain actions may limit the mover's liability for damages or losses:
Failure to declare items of extraordinary value on your shipping documents (valued at more than $100.00 per pound).
Delayed reporting of loss or damage of goods (timelines vary by moving company and type of move, so check with your mover).
Packing perishable, dangerous, or hazardous materials without your mover's knowledge.
Packing or unpacking your own boxes.
Understanding the importance of valuation coverage and its differences from insurance is essential for a stress-free and secure move. By being informed and making thoughtful decisions, you can enjoy a successful and worry-free relocation, knowing that your cherished belongings are well-protected throughout the journey.