Fall is just around the corner, and school will soon be in session. If you have college-bound kids, it is nearly time to move them into their new home away from home. Maybe you are moving your first child, maybe you are moving your last and are about to be an empty-nester! Regardless of your situation, here are a few college moving tips to ensure an easier move-in day.
1. Plan ahead and get an early start
Your college student should connect with their future roommate ahead of time (many incoming college students use Instagram or Facebook to get in touch before move-in day) to see what shared items – television, mini-fridge, shelves, etc. – they will be bringing, as well as when they will be moving in. Dormitory rooms are often small, so it is a good idea to move in before or after the roommate, not at the same time.
Dorm buildings may not have air conditioning (pack a desk fan!), so plan to move in the morning to avoid working in the mid-day heat. You should also check the university's prohibited items list to make sure your college-bound kid's dorm does not ban certain items, such as microwaves or candles. Parking and elevator lines may also be a nightmare midday, as many parents are trying to move their children in as well; arriving early has its perks!
2. Sort it out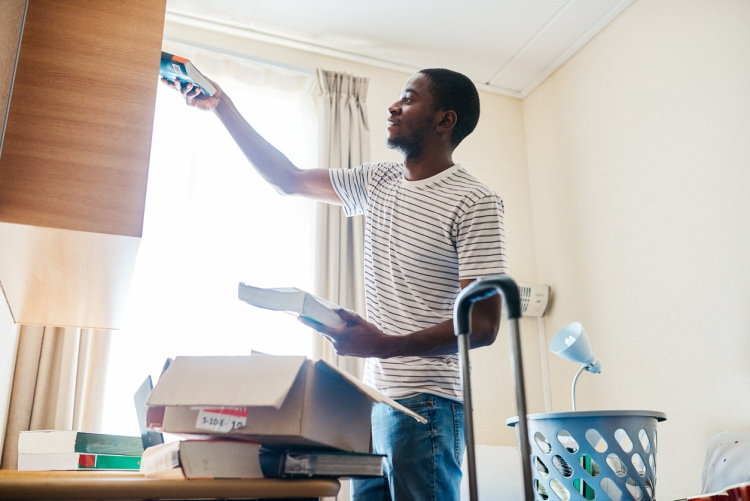 Sort items into essentials and non-essentials. As previously noted, dorm rooms are often small, so leaving the non-essentials at home is key to eliminating clutter in the new space. Bring items that you use every day, but don't bring items that you may not use in the near future. Pack as light as possible, and then bring or ship items that you find you must have and know you have room for. Another tip is to pack clothes seasonally, as winter clothes can be brought back over the holidays. If you are on the fence about some items, pack them in a box and have them sent after you have had a chance to settle in.
When unpacking, make sure items such as candles, aerosol sprays, and certain electronics are unloaded first as these items can melt, explode, or suffer damage from the extreme heat of being locked in a car.
3. Resist shopping right away
It is typical for college-bound teens to stock up on various supplies before moving into their new dorm. However, it might be best to wait. Often, you'll end up buying things you don't need or that the roommate already has. This is why planning ahead is so important – knowing which roommate can bring typical shared items makes it much easier to compile a shopping list. Wait until your student has settled in with their roommate so that they have a better grasp of which items are actually needed. Consult resources like the ones listed below to see what you may or may not need heading into the new school year.
Moving into college can be a stressful experience, but by scheduling and preparing a college-bound move ahead of time using these college moving tips, you and your family can save money, headaches, and time. We wish you and your college-bound kid a stress-free move and a successful school year!