Moving to a new neighborhood is exciting – yet it can be incredibly stressful. It's a step away from what you know and into a brand new world. Whether you're moving across the state or around the world, you're bound to feel emotional when you pack up and go, and that is a big deal.
Check out these tips to help make the transition from one neighborhood to another a little smoother.
1. Do your research
Before you start looking at houses, take some time to learn about the neighborhoods in the area you're considering. Look at details like house prices, crime rates and safety, the commute to your place of work, quality of nearby schools, and green areas.
Finding a neighborhood that matches your criteria in these areas will go a long way to help you feel satisfied with your new neighborhood.
2. Transfer utilities
A good time to get in touch with your utilities providers is about three weeks before you make the move. If you're moving within the same town or the same state, you can request a simple transfer of your existing utilities before moving day. If you're moving cross-country, you'll need to request a future disconnection and look for utility companies in your new neighborhood.
3. Change your address
The good news is that it's extremely easy to change your address and make sure that your mail goes to the right place. You can do it online, head to the USPS office and do it in person, fill out a form and put it in the mail, or by phone.
4. Pack smart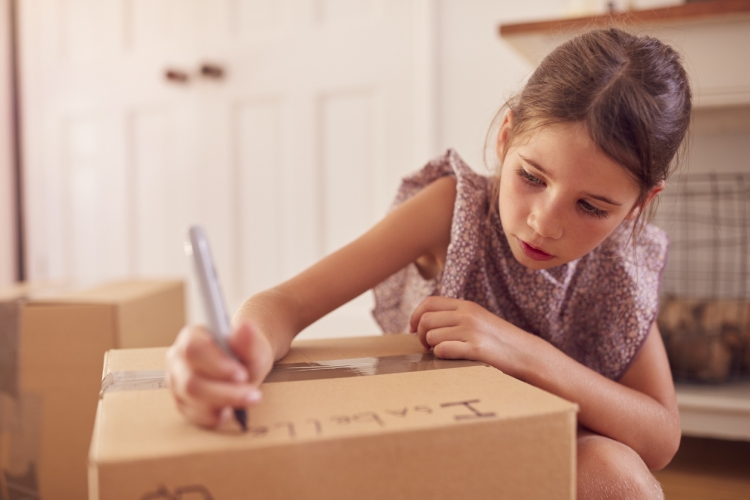 Since packing is the most time-consuming and demanding aspect of your move, you'll want to start as soon as you can. You can use this period to pare away things that you don't need, so you can head into your new home with a fresh, de-cluttered mindset.
Make sure to keep an 'essentials' box for each family member stocked with extra clothes, chargers, medications, toiletries, and so on.
And, above all, don't forget to label the boxes! Labeling will make unpacking a much less daunting chore and keep your stress levels down and make your transition easier.
5. Ask for help
Handling a move on your own is a lot to expect. If you're not moving too far away, ask your friends and family for assistance on the big day. Surely, they'll be glad to lend a hand, as long as they're paid in food and drinks.
If you're moving a significant distance, hiring a professional moving company like JK Moving is the best idea. We'll take care of all the details, big and small, so you won't have to stress.
6. Unpack smart
Just like packing smart, unpacking smart is important too. A house full of unpacked boxes doesn't feel like a home, so you'll want to start the unpacking process as soon as possible – at least, in the most important rooms. The three main rooms that should be unpacked first are the kitchen, bathrooms, and bedrooms. Once these rooms are set, you can take your time getting comfortable in your new home.
7. Secure your space
Knowing that your new house is safe is a major part of feeling at home in the neighborhood. To secure your home, change the locks, add exterior lights, check that all windows and doors close securely, and install a security alarm.
It's also necessary to make sure that your smoke detectors and fire alarms are up to par.
8. Meet the neighbors
Neighbors can be a great source of information when it comes to details about the neighborhood, so getting to know them will help you feel more at home. They're probably just as curious about you as you are about them, so introduce yourself – you might end up being great friends!
9. Get familiar with the neighborhood
It might take some time before you feel completely at home in your new neighborhood, but exploring your new territory can help ease the transition. The more you know about your surroundings, the more comfortable you'll feel.
10. Settle in
Getting involved in the community is a great way to make a new place feel like home. You'll meet tons of local people while keeping an eye on what's happening in your neighborhood.
Keep these tips in mind as you move to help you become acclimated to your new neighborhood. For more advice on how to make your move the best it can be, check out our blog.