Sheila and the values of JK
Sheila Nguyen-Pham has been in the JK Moving sphere since 2005, so she's no stranger to our company. She came to work with JK because her sons were young at the time, and she liked the convenience of working close to home. Her commute at the time was only five minutes long!
She left JK moving in 2007, but couldn't stay away for long. She came back in April of 2011 – all because she was drawn to the environment that we cultivate here. Sheila says that what brought her back and kept her at JK is being surrounded with the great people she works with. She truly enjoys working with everyone on her team, along with those in other departments. The camaraderie stretches all the way to her manager and CFO, who are very supportive of their entire team.
Her favorite part of working at JK Moving is that she is constantly learning something new. There are no slow days when you work here, and Sheila knows that very well. She looks forward to always having work to do to keep her busy, so every day goes by quickly.
"I am very honored to represent JK because of how the company has grown and for how much the company gives back to the community," Sheila says.
A love of numbers
When asked what it took for her to realize that she wanted a career in accounting, Sheila says that it stemmed from the fact that she always excelled in math in school. Throughout her academic life she always enjoyed working with data, which is not always a path people choose. Because of this, she felt that accounting and finance would be a good career choice for her and would have plenty of job security.
A biker and beach goer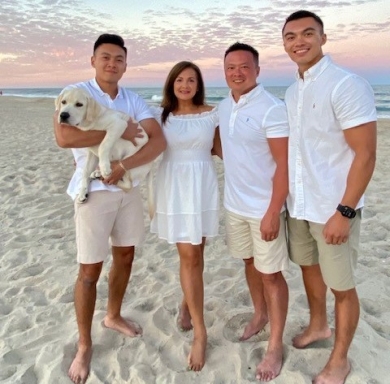 Sheila has been married for 26 years, and she has two sons. One is a deputy for the Loudoun County Sheriff's Department, and the other is in his third year at JMU.
In her spare time, Sheila enjoys traveling, visiting the beach, touring wineries, and riding her bike. On her bike, she can ride for about 20-30 miles at a time.
Her future goal is to purchase a home in Florida to be able to enjoy the beach whenever the mood hits.