A few times each month, JK Moving welcomes officers and service dogs from the Metropolitan Washington Airports Authority K-9 Unit. These specially trained teams search for explosives at Washington Dulles International Airport and Ronald Reagan National Airport.
The officers and their dogs must go through continuous training in finding explosives so that, in real-life situations, they are equipped and ready to protect travelers through our local airports.
During a recent visit, three new dogs joined us to train in our warehouse. We followed along during Tina's training session with Officer Smith.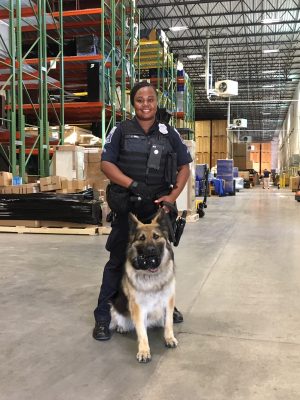 The K-9 teams like training in the JK warehouse for a few reasons, such as:
It's exceptionally clean, so there are no worries of debris getting caught up in the dogs' paws.
The more than 500,000 square feet of space provides the dogs with a change of scenery from their smaller training facility at the airport, in a more complicated environment to challenge the dogs.
It's a highly controlled and secure environment so the teams can focus as they train.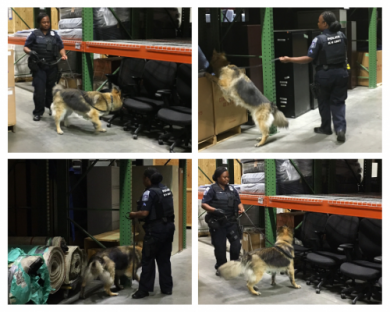 These hand-selected dogs are trained and owned by the individual officers and live with them as part of their family, even after the dogs officially retire from their service positions.
As a way to give back to our community, we are thrilled to host them on a regular basis. JK also supports them in retirement by donating used office furniture to Paws of Honor. This nonprofit organization provides free veterinary care to retired police and military working dogs through donations and sponsorships.