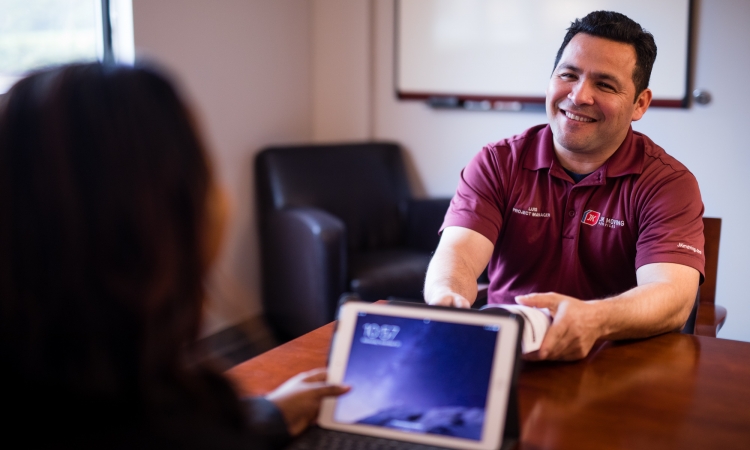 The professionals at JK Moving Services will be there for you once you're ready to move. But what about earlier in the process? How do you know when you're ready, or what to look for?
When moving an office, bring a respected real estate broker or construction expert to the table early to talk about your needs, your brand, and your budget.
Moving an office? Keep these considerations in mind:
You're not moving for today; you're moving for five or 10 years. How will your new space meet your needs over time? Are you in growth mode? Can you address those needs flexibly through archived storage and telecommuting for some employees?
Moving an office always means some attrition. Even if your intention is to move all 100 employees, chances are you'll lose 10-20% during the first year. Business moves change commutes and even office cultures. Ask yourself who your must-keep employees are and think about their needs.
Space is a flexible construct. The same square footage can hold 50 employees or 100 depending on your office plan, construction, and density. Work with an office space designer to discuss optimal plans for density and efficiency that will serve your business and office culture.
Surpluses are good for you. If your region has been overbuilt and there's a glut of office space available, use it to your advantage. Ask for concessions and build-out allowances. The longer a lease you're willing to commit to, the more likely you are to get what you want.
Factor in intangibles like convenience, safety, commutes, nearby restaurants, daycare, parking, and proximity to partners and clients. Those are the everyday concerns that are going to affect your business operations from the moment you're in the new location.
Bring your moving and storage pro to the table early and consult with them often. The most experienced companies know the lay of the land. They've done this before, for businesses like yours, and they know what to look for. They'll be able to make suggestions to help you plan a successful move right from the early stages, and even save you money through planning, archiving and storage, etc. Let them help you achieve the results you want!