While each type of project has its own unique challenges, there is one consistent theme: Moving is change – and change can be stressful. Stress can create negative emotions and feelings of uncertainty, which can make the relocation process challenging. Recognizing this potential challenge early in the process will give you the opportunity to be proactive, thereby reducing stress and ensuring a successful relocation.
It is impossible to ensure perfection, but the more people engaged in the moving checklist process, the greater the opportunity for a smart office move. Workplace design touches every aspect of an organization, with 80% centered on people and 20% on real estate and IT.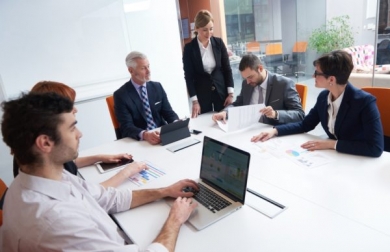 Multi-generational workforce
Workplace design must also encompass the different values of a multi-generational workforce. We currently have four different generations looking for work in one form or another. Baby Boomers value consistency, job security, and loyalty to their employer. Generation X values work-life balance and flexibility. They are loyal to their profession, but not necessarily to their employer. Millennials also value flexible working and work-life balance, and they also seek to be supported, appreciated, and part of a cohesive team. Generation Z is looking for a commitment to diversity, company values, and a larger mission.
Workplace design trends
Current workplace design trends include well-being. This trend has become popular thanks to Millennials' expectations that the office can be both a workplace as well as a social center. The size and uniformity of space is also a topic for debate based on each firm's needs. Developing a sense of community or collaboration is a high priority. Finally, connectivity with high-speed and mobile communications systems is a must for any company.
Managing change for a smart office move
We have found that early and accurate communication is a key component in managing change. By engaging those impacted by a change, you will provide them an opportunity to understand the project, ask questions, raise concerns, and appreciate why certain decisions have been made. It will also give you an opportunity to make adjustments for valid concerns, showing your ability to listen and accommodate reasonable requests, while demonstrating resolution on points that cannot be adjusted. This will build trust and promote a more successful outcome.
There are two levels of What Matters Most. There is the organization (business) to consider. What are the main priorities of the individual stakeholders – the various leaders and their departments? The priorities of each will vary. Recognize that each stakeholder has valid concerns on how the project will impact their areas of responsibility.
Then the team must consider the impact at the individual level. Be prepared to break down the project in terms of how individuals will be impacted (What's in it for me?) and a broad grassroots support for the project will grow.
Relocation plan
Once a move manager is selected for your project, it is important to schedule an initial project launch meeting and regular on-site meetings thereafter. You will want to promote an environment of open communication that encourages sharing information, ideas, and best practices related to the move. Your move manager does this every day, so be sure to take advantage of their expertise and experience.
Review the roles and responsibilities of each team member. Know exactly what is expected of each person and be clear on how changes or change orders may be approved. Who can authorize a change to the schedule or additional services?
The relocation plan (provided by the mover) should be regularly updated and should clearly identify any changes or challenges. Understand which changes may incur additional costs or a lengthened move schedule. Your project team should be focused on the common goal of successfully completing the project on time and on budget with minimal individual and collective stress and downtime.