Businesses downsize their offices for different reasons. For some, it's about relocating to areas with lower costs of living. For others, it's an opportunity to redesign the workspace, to strengthen the link between office environment, employee satisfaction, and productivity.
Regardless of your motives, downsizing an office takes planning and coordination if you want to move on time and within budget. To help you get started, here are some lessons we've learned along the way:
1. Clarify roles and responsibilities
Downsizing an office is a big project that ultimately involves everyone in the business. Although you may know your role in the process, don't assume everyone else does. Take time beforehand to identify and clarify who in the company is responsible for each aspect of the move. It helps to document and disseminate points of contact among stakeholders. This is particularly important if the downsize includes many external partners (architects, interior designers, property managers, movers, etc.)
The decisions you make will doubtlessly overlap with decisions your counterparts are making, so coordination and cooperation are key. For example, deciding which furniture, fixtures, and equipment to move from the old office depends on decisions about the interior design of the new workspace. The smoothest moves are those in which everyone is on the same page.
2. Decide how storage fits into your downsizing plans
First, knowing that storage is an option provides some flexibility when downsizing your office. Storage buys you time if you're not sure how the new workspace will come together. Rather than discard furniture or equipment you might need later, put them in temporary storage until you know what you want to do with them. Storage makes even more sense if you're downsizing your office for the short-term and planning a return to larger office space as your company grows.
3. Specify your security requirements
For many companies, downsizing an office means transitioning to paperless processes and taking advantage of cloud technologies, so their IT departments require less server space. Nonetheless, you will still have sensitive equipment and documents to move.
Working together, you and the IT department should outline the necessary protocols and processes necessary to secure your precious assets during a relocation.
4. Coordinate with your new property managers
Before move day, try to establish a good relationship, based on open and frequent communication, with the property managers at your new office. Hand-in-hand, you'll work out with them the details of when and how the move will happen.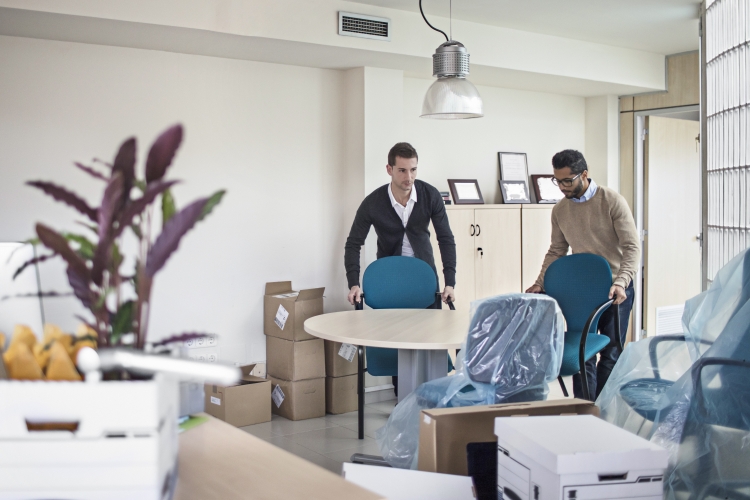 Specifically, are there any restrictions or policies that you should know about beforehand? Will you have access to service elevators during the move? Are there dates or times when relocation is restricted for some reason? Where will the moving trucks park, and are those spaces dedicated, or will you need permits? Their assistance in answering questions like these is invaluable to ensuring a smooth office downsizing.
5. Update your coworkers throughout the downsizing process
Moving to a new office is a big change, and some employees may feel disconnected from what's happening, especially if they have been working remotely. They might not understand that downsizing an office is a positive sign for your company. One way to alleviate anxiety and foster a sense of togetherness is by providing frequent updates on the process. A simple weekly or biweekly communication lets your coworkers know what to expect from the move. As an added benefit, employees who feel like they're in the loop are more likely to offer ideas and highlight concerns you might not have considered. Use their collective wisdom to make a seamless move.
At JK, our pre-planning, technology, and dedicated team of professionals will ensure that your office relocation and furniture installations and reconfigurations are done within your deadline and budget. Let us guide you through your next commercial moving project.