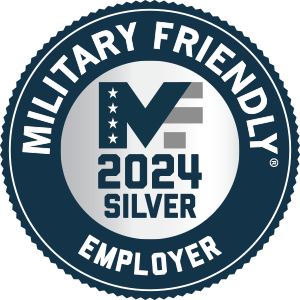 STERLING, Va. (Nov 10, 2023) — JK Moving Services, a global moving, storage, relocation, and logistics enterprise, has earned the 2024 Military Friendly® Employer designation for its commitment to hiring and supporting members of the military. Institutions earning the Military Friendly® Employer designation were evaluated using both public data sources and responses from a proprietary survey. Over 1,200 companies participated in the 2024 Military Friendly® survey.
"We are proud to be recognized with this prestigious Military Friendly® designation. JK not only helps move military members, but we also hire them. Their skills and talents are a great fit, and we place a premium on helping veterans and Armed Forces members transition to the private sector," said JK Moving President David Cox. "As a military-friendly company, we look forward to JK becoming a great career choice for even more of those who have served."
JK is committed to attracting and retaining the best employees and puts extra emphasis on hiring veterans. Demonstrating this, more than 11% of JK's new hires in 2023 served in the military. The company was the first moving company to sign a Statement of Support with the DC National Guard, confirming its focus on employing those serving in the National Guard Reserves, and supporting reservists. The company is also an authorized SkillBridge Partner, a DoD program that helps any rank service member to use the last 180 days of their service to train and learn with an industry partner while continuing to receive military compensation and benefits. The JK Moving SkillBridge Program gives active-duty military members who will soon transition into civilian life a chance to gain valuable work experience through specific industry training and development.
"Organizations earning the Military Friendly® Employers designation have wholeheartedly invested in comprehensive and impactful initiatives that bring about positive, life-changing results for our valued service members, dedicated military spouses, and esteemed veterans within their ranks. We salute these exemplary employers who raise the bar and understand that hiring military personnel is not merely an act of goodwill but a testament to a standard that truly embodies sound business wisdom. Their steadfast commitment to integrating military personnel into their workforce not only reflects their compassion but also underscores their business acumen," said Kayla Lopez, Senior Director of Military Partnerships at Military Friendly®.
Methodology, criteria, and weightings were determined by VIQTORY with input from the Military Friendly® Advisory Council of independent leaders in the military recruitment community. Final ratings were determined by combining an organization's survey score with an assessment of the organization's ability to meet thresholds for Recruitment, New Hire Retention, Employee Turnover, and Promotion & Advancement of veterans and military employees. JK Moving Services will be showcased in the 2024 Military Friendly® Employers in the Winter issue of G.I. Jobs® magazine and on MilitaryFriendly.com.
JK prides itself on being an employer of choice, offering competitive compensation, and for CDL-A long-distance drivers even provides guaranteed annual income, starting at $100,000. The company has great training and ongoing career development; a formal Wellness Program; a generous safe harbor 401(k) and company-paid profit-sharing program; tuition reimbursement; paid time off. In addition, it provides an Employee Assistance Program; comprehensive medical, dental vision, and ancillary benefit coverages; bonus incentives; and employee volunteer opportunities—including with the JK Community Farm, a nonprofit farm supported by JK Moving that grows and donates fresh produce and protein to the area's food insecure.
JK employs nearly 1,200 people—a majority of whom live in the Washington, DC metropolitan region. The company has won numerous awards, including being recognized by the Washington Business Journal as a Best Place to Work and Top Corporate Philanthropist.
ABOUT JK MOVING SERVICES
For more than 40 years, JK Moving Services – the largest independently owned and operated moving company in North America – has provided local, long distance, and global relocation services to a variety of commercial, residential, and government clients. Headquartered in Sterling, Virginia and voted Independent Mover of the Year by the American Trucking Association, the company maintains a full-time, professionally trained staff of relocation and move management experts committed to providing the highest level of customer care. www.JKMoving.com