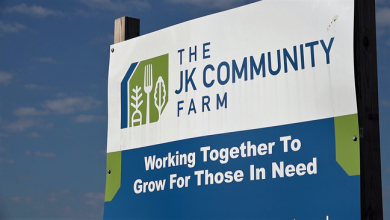 A company known for moving your belongings is now a cog in Loudoun County's food chain, helping harvest and transport fresh produce to those without. JK Community Farm donates produce to local food pantries helping those in need. There's plenty of food. The problem is they need more volunteers.
"We are one of, if not, the largest non-profits in the country that strictly donates everything that we grow to families in need," says JK Community Farm General Manger Mike Smith. "It's a great feeling and truly a dream come true of mine to be out here like this and be able to contribute and give back to the community."
Only two people, Mike Smith and Samantha Kuhn, work full time at this farm near Purcellville, Virginia. Yet, this year alone, they expect to donate 135,000 pounds of produce to those in need.
"Our farm is 150 acres," Kuhn says. "Our mission is to alleviate hunger in our region with healthy, nutrient dense, chemical-free produce and protein. So, 100 percent of what we grow is donated to local food banks and food panties. So, our food will reach everywhere from Loudoun into DC. Our volunteers are essential to our mission. They do all of the planting and harvesting out here at the farm."