Community Impact
JK Community Farm
Making a difference for the food insecure in Virginia and surrounding areas.
Recognizing that hunger was a real issue in Loudoun County, VA, and surrounding areas, JK Moving Services launched the JK Community Farm in 2018 to help those struggling with food insecurity, including children, senior citizens, families, and individuals in need. Located in Purcellville, VA, the 150-acre Farm is a 501(c)(3) that provides organic fruit, vegetables, and protein to area hunger relief programs and shelters.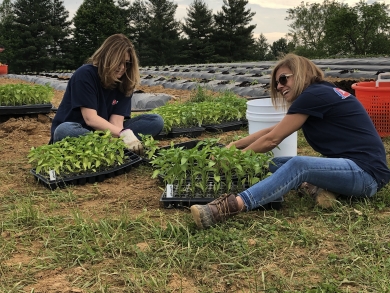 With the help of corporate and community volunteers, the Farm donated over 100,000 pounds of fresh food in 2019. Produce grown includes sweet potatoes, lettuce, kale, turnips, sweet corn, bell peppers, tomatoes, and zucchini. New crops added in 2019 include poblano peppers, jalapeños, watermelons, cucumbers, carrots, and eggplants. The Farm also planted perennial plant asparagus in 2019, which will be ready to harvest in 3 years and continue to grow back for 25 years. A generous grant from 100 Women Strong will help the Farm develop 12 more bio-intensive raised beds.
During the Farm's first year of operation, crops were planted and then harvested from one acre of the 150-acre property. The following year, the Farm expanded to seven acres and added seven beehives and a dedicated beekeeper. The hives help with the pollination of crops, including squash and watermelon. It can take between seven to ten bee visits to a melon plant to get a marketable melon.
Due to increased community needs during the COVID-19 pandemic, the Farm doubled its production to fourteen acres of farmed land. With the help of hundreds of community volunteers, the Farm provided 145,000 pounds of local, fresh, chemical-free produce and protein for families in need.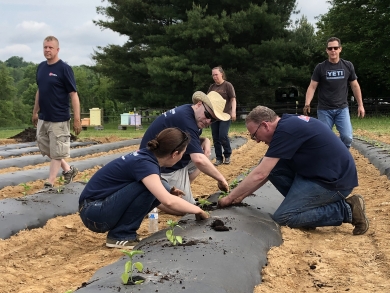 The JK Community Farm is the largest chemical-free nonprofit farm in the US, grows produce without synthetic fertilizers, and uses key pillars of sustainable agriculture, like a compositing system, rainwater harvesting, and drip irrigation.
Fundraising efforts from 2018 allowed the Farm to build a greenhouse to start plants from seed on site and a high tunnel for season extension, which is important to provide fresh food for the families it serves through the winter.
The Farm donates its yield in partnership with Loudoun Hunger Relief, Food for Others, and Arlington Food Assistance Center, and works to increase access to fresh produce and protein to the food insecure through educational programs in alignment with the Virginia standards of learning to educate students on nutrition and agriculture. The Farm provides a complete self-guided field trip curriculum, which includes community gardening activities, and opportunities for parents/caregivers to learn alongside their children at the farm.
With a staff of 3, the JK Community Farm hosts over 4500 volunteers annually, the majority as corporate team-building events from companies throughout the northern VA region. These companies typically stay for a catered lunch at the farm or visit a local brewery or visit nearby breweries and wineries, thereby contributing to the growth of local businesses in Loudoun.
By the end of 2023, the JK Community Farm aims to distribute 245,000 pounds of organic produce and protein to families who are experiencing food insecurity in Loudoun, Fairfax, Arlington, and DC. This contribution is expected to provide approximately 196,000 meals, with 175,000 pounds of produce and 60,000 pounds of protein. The farm's efforts this season will bring the total amount of food donated to our food pantry partners since our establishment in 2018 to 1 million pounds. Through its tireless efforts, the JK Community Farm continues to make a significant impact on the lives of individuals and families in need in the local community.
Find more information to support the farm, volunteering and donating on www.jkcommunityfarm.org (a $35 donation allows us to grow an additional 2 weeks of meals for a family in our region facing food insecurity).
Local farms can also donate cattle which we will coordinate processing and pickups with our food pantry partners.
The JK Community Farm initiative is representative of one of the core values of JK Moving: care and respect – particularly for the community.