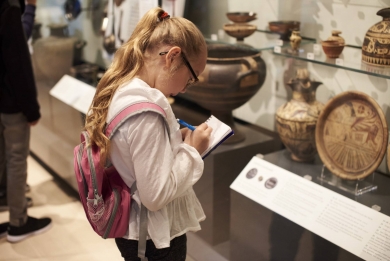 Seeking a museum moving company who understands the highly specialized needs and concerns of your world? Consider JK's professional, proven museum and fine arts movers for over 25 years.
We've transported priceless works of art, ancient Egyptian artifacts, even pieces of the Berlin Wall, and are ready to put our experience to work for your museum or exhibition relocation.
As an experienced museum and fine art mover, we're highly skilled in disassembling, reassembling, and installing modular systems, shelving, and display cases. And we've developed a specialized room-by-room planning and labeling system for your most detailed exhibits.
Meticulous protection at every step
JK recognizes that a museum's move can present a difficult challenge. We understand your fine art, rare books, antiques, and artifacts are often irreplaceable and treat them accordingly with:
Full-time, IOMI® certified moving teams trained in customized methods for packing, crating, and unpacking
Museum curator to manage the relocation of your collections of artwork and artifacts
Specially designed carts for high-value items
Exhibit room-by-room labeling system
Climate-controlled vans
Air ride equipped trucks designed to reduce shock for sensitive items
Storage
For items to be stored, we offer more than 17.5 million cubic feet of secure warehouse storage, with a climate-controlled area and 24-hour security. Our customer portal allows 24/7 access to all of your storage items. Real-time digital image inventory through the portal allows you to view your assets and even schedule time for us to deliver it to you, whenever you need it. From priceless art to ancient artifacts, we have you covered for safe, secure, and convenient museum storage.
What matters most to you, matters most to us
At JK Moving, we treat your priceless artifacts with the care and respect they deserve. We understand and value their historical significance, and provide unparalleled detail and service to ensure their safety. When moving your irreplaceable exhibits, trust no less than the best.