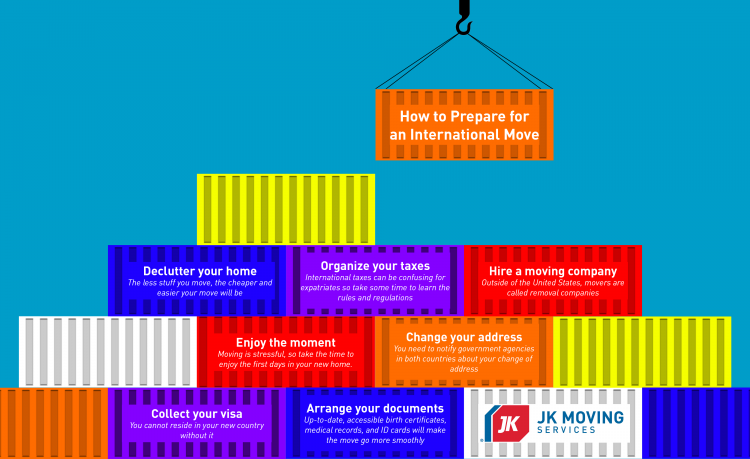 Moving can be an exciting, yet stressful process. And moving internationally adds another layer of complexity to an already nerve-wracking milestone. As more and more companies expand globally, international relocations will become more common. While the decision to relocate globally for work, experience, or pleasure is ultimately up to you, outside factors might just guide you to a new country.
So what is the global relocation process like? Who do you have to notify? When do you have to start? What documents do you need to arrange? We're here to help answer five of the most frequently asked questions about the international moving process.
When should I start planning my international move?
The short answer is to start as early as you can. It takes time to arrange for visas, residency permits, and work permits. In some countries, these documents can take months to process.
If your company is providing you and your family with work permits and visas, it can still be helpful to check in with the embassy or consulate for your destination country. They can help answer questions about rules and regulations about living and working in your new location.
Depending on the time of the year, it can also take several months to schedule an international mover.
What documents do I need to have in place?
Beyond the obvious visas, work permits, residency permits, and passports, there are about a dozen other important documents you should collect when moving abroad.
Bring these documents with you:
Driver's License(s)
Marriage Certificate
Birth Certificate(s)
Adoption Certificate(s)
Medical records
Dental records
Health Insurance cards
Leave these documents in a safe deposit box in your home country:
Wills
Deeds for property in home country
Titles for vehicles left in home country
Power of Attorney
Notarized paper copies of birth, marriage, and adoption certificates
Who do I need to notify about my move?
Whether moving down the street or to another country, there are personal, professional, and government organizations you should notify about your change of address. However, when moving globally, there should be a special interest placed on notifying the following government agencies.
United States Postal Service
USPS will forward mail to your new address for a full year. The USPS change of address form is the same for domestic and global moves. However, USPS Form 3575 does not include a place to fill in an international address. Simply indicate on the form that the new address is overseas.
Internal Revenue Service
Whether you're living in the United States or abroad, U.S. citizens are subject to U.S. tax laws. The rules for filing for both domestic and global residents are basically the same. If you are living abroad, you are given an automatic two-month extension to file your return. While the updated due date is June 15, interest will be charged starting April 15 for any tax due that is not paid before April 15.
All expatriates should file their taxes with the Department of the Treasury, Internal Revenue Service Center in Austin, Texas 73301-0215.
Voter Registration
U.S. citizens abroad can now receive blank ballots through email, fax, or internet download depending on state eligibility. Each January, submit a Federal Post Card Application to your local election office in the United States. If you request electronic delivery, you should receive your blank ballot 45 days before general and midterm elections and 30 days before special and primary elections for federal offices.
Social Security Administration
As long as they are eligible for payments, U.S. citizens living abroad can continue to receive Social Security payments. However, payments cannot be sent to expatriates living in: Azerbaijan, Belarus, Cuba, Georgia, Kazakhstan, Kyrgyzstan, Moldova, North Korea, Tajikistan, Turkmenistan, Ukraine, or Uzbekistan.
How do I get my household goods from point A to point B?
First and foremost, your international moving (or removal) company should be a FIDI Accredited International Mover (FAIM). To receive FAIM certification, a moving company must earn a certain score on a point system which measures more than 200 quality markers. In the United States, JK is one of just 34 companies with FAIM certification.
Second, note that in most cases, the mover who packs your household goods won't be the mover who delivers your belongings. When you select a mover in the FAIM-FIDI network, like JK, you can be sure they have trusted partners worldwide.
Third, paperwork for global moves is vital to the delivery of household goods. Talking with your mover ahead of time prepares you to properly fill out the customs paperwork for your destination country.
Finally, decide what you are going to move. The more belongings you ship overseas, the more it will cost. Alternatively, you can choose to store items you don't need Stateside.
How do I enroll with the nearest U.S. embassy or consulate?
STEP, the Smart Traveler Enrollment Program, is a State Department service, free to all U.S. citizens traveling or living abroad. STEP allows U.S. travelers and expatriates to enroll in their nearest U.S. embassy or consulate. By enrolling, you will receive the latest safety and security information for your destination country. The U.S. Embassy will also have an easier time contacting you in case of an emergency once you enroll.
If you have more questions about global moving, check out our international FAQ page, or drop us a comment below.