If you're one of the many people planning to relocate because of the COVID-19 pandemic, you already know that moving is stressful enough without worrying about catching the virus.
Set yourself up for a safe relocation by taking the proper precautions and following these 5 practical tips.
1. Start planning early
The United States is currently facing a tremendous driver shortage, and the American Trucking Association is predicting the deficit of drivers in the country doubling over the next eight years, particularly CDL long-haul drivers. If you're looking to make a move to take advantage of current low interest rates or to move to more open spaces, it's critical to plan in advance. Prior to the pandemic, customers typically started planning a month in advance, but now we recommend planning two months out.
2. Avoid the DIY approach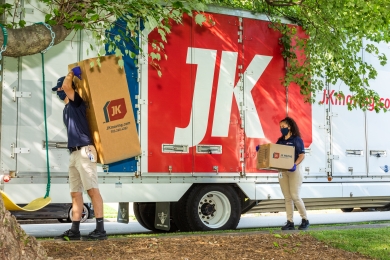 A pandemic is not the best time to invite your friends and family to help you pack and load a truck. By hiring professional movers, you involve fewer people in the move and make sure everyone is following CDC guidelines.
In other words, the relatives who gave up their weekend to help you move may not feel like wearing masks and gloves, whereas professional movers will follow safety protocols as a matter of policy.
3. Work directly with a professional mover
To ensure a smooth, safe, and affordable moving experience, try to work directly with a professional mover instead of online brokers. JK Moving's CEO Chuck Kuhn explained why to avoid brokers during an appearance on Fox 5 DC:
"I think it's really important to make sure that when you're engaging with a moving and storage company that they own their own trucks and they own their own facilities. They're not just an online broker," he said during the interview. "Go out and find the company you'll be doing business with… Making sure you're getting the best value and dealing with a reputable organization is critical."
When you research movers, review their policies and commitments to keeping both you and their employees safe from COVID. Find out specifically what the company is doing to reduce the health risk and prevent the virus from spreading.
For example, JK Moving offers virtual consultations and virtual self-surveys using Yembo, an Artificial Intelligence (AI)-supported technology, allowing customers to get accurate quotes without the need for in-person contact.
"Fortunately, we made a lot of investments in technology before COVID," said Kuhn during the TV segment. "We can do a full survey of your home using AI technology without sending anyone out to your home."
Additionally, JK has implemented daily COVID screening protocols to our daily dispatch, including:
Temperature checks
Confirming team members are experiencing no COVID symptoms
Confirming team members have not been exposed to someone who has tested positive
(You can learn more about what JK does to minimize the risk from COVID here.)
Finally, book your movers as soon as possible. With so many people moving right now, the demand for movers has increased. If you can, plan ahead and try to be flexible with your moving dates.
For some more tips on finding movers and planning your move, this New York Times article offers some great advice.
4. Load up on packing supplies
Among the five things that USA Today TV critic Kelly Lawler wishes she'd known before moving during the pandemic, one is to load up on packing supplies. If you're planning to pack everything yourself, the last thing you want to do is run out of boxes, tape, and packing materials right before your move. Better to have some extras left over than to find yourself running to the store at the last minute, where you put yourself unnecessarily at risk.
Another good piece of advice? Have lots of soap and hand sanitizer on the ready.
5. Don't assume you can donate your stuff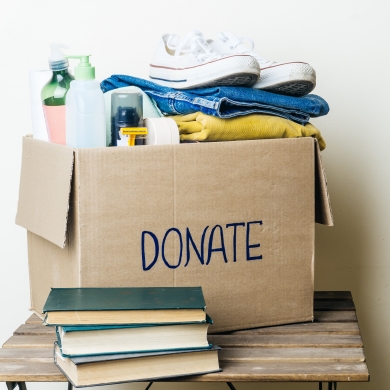 Depending on where you live, giving away unwanted furniture and other home goods could prove difficult. Donation centers have varying guidelines on what they'll accept, so if you're not planning on taking something with you, donation may not be an option, as it was pre-COVID.
First, contact your local donation centers to learn their requirements. If their donations are closed or restricted, you can always try selling items on Facebook or Craigslist, and then accepting contactless payments through a mobile app, as writer Hannah Wise suggests in this New York Times article on moving during the pandemic.
6. Plan your travel from Point A to B
If moving out of town, you'll need to consider how you'll get from Point A to Point B. For one thing, some states and localities have travel restrictions. If you're traveling to or through those areas, make sure you're aware of their particular guidelines.
You'll also need to consider how you'll get to your destination – and how you will minimize your exposure to COVID-19 along the way. That is, if you drive to your new home, will you need to sleep over somewhere along the way? What protocols might you follow if you take a plane, train, or bus. How will you get from the airport or train station or bus station to your new home?
The best thing you can do is plan ahead – know exactly how and when to transport yourself, so that your travel time is minimal and as safe as possible.
To help you plan, the CDC page on "Travel during the COVID-19 Pandemic" is a great resource for getting started.