Today, we're joined by guest author, Glynnis Swan, who serves as a Senior Team Lead for our sister company CapRelo. Glynnis joined the CapRelo team in July 2017 as part of the company's acquisition of Conduent's employee and assignment services business. In her role as Senior Team Lead, she manages the Global Assignment Managers who coordinate global assignments and international permanent transfers for CapRelo's clients.
Glynnis also serves as a CapRelo representative on our enterprise-wide Health and Wellness Committee established by JK. The Wellness Committee promotes a healthy work environment that enhances the development of lifelong health and wellness habits. It provides employees with opportunities like
Health and wellness education sessions
Gym discounts
Charity volunteer opportunities at the JK Community Farm and Cycle for Survival
Employee reimbursement for WW (Weight Watchers)
Onsite fitness classes
Summertime farmer's markets for employees at our Sterling, Virginia campus.
Glynnis walks for charity
Last month, Glynnis participated in an exciting charity and fitness event in her home country of Bermuda, and today, she's sharing an account of her experience.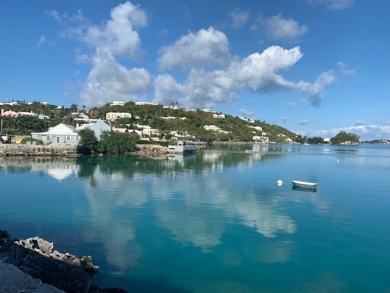 "On Saturday, May 4, I participated in my home country's favorite annual charity and fitness event – the Bermuda End-to-End. In its 32nd year, over 2,000 participants either walked, cycled, rowed, paddled or swam their way across the island to contribute to millions of dollars raised for local charities. While most walkers opted to complete the Middle-to-End (a 16-mile walk), less than 100 people – myself included – accepted the ultimate challenge of hiking the 24.1-mile trek from the historic East End of the island (King's Square, St. George's) to the western-most point of the island (The Royal Naval Dockyard)!
I began preparing for the event three months prior to its start. I knew that the event was going to be a great physical and mental challenge because not only do I suffer from fibromyalgia (a painful autoimmune disease), I had a recent health issue which resulted in 20-pound weight gain in one month! Along with consulting my physician, I increased my water intake and eventually eliminated all sugary/soft drinks and alcoholic beverages. During my preparation, I tried to walk at least a few miles every other day; mostly accomplished while my son was at soccer practice or warming up for a game. I took advantage of our company's free Employee Assistance Program, engaged a stress coach and incorporated meditation into my daily routine.
A fun challenge
The End-to-End's six-plus hour walk in 80-degree weather was grueling. At around mile 13, I cried in pain; at mile 16, I wondered 'What on earth possessed me to do this?' and I wanted to quit. My hands and feet swelled, and I almost lost a pinky toenail. However, through all of these challenges, I also had a lot of fun! The streets and trails were lined with hundreds of awesome volunteers, well-wishers, and unique water stops.
One of the best parts of the event was the unique water stops. Over 20 water stop sponsors competed for the bragging rights as 'favorite water stop.' So, in addition to providing water, oranges, and bananas, we were treated to various goodies such as snow-cones, fresh-squeezed lemonade, candies, homemade baked goods and my personal favorite – jerk chicken wings! We danced in the streets to reggae, soca and calypso music, enjoyed beautiful island views, made new friends (there are plenty of ex-pats there) and motivated each other the entire way.
The walk was physically challenging and fun, and also quite sentimental. I completed the walk with my aunt, just as we had 30 years ago when I was a young teenager.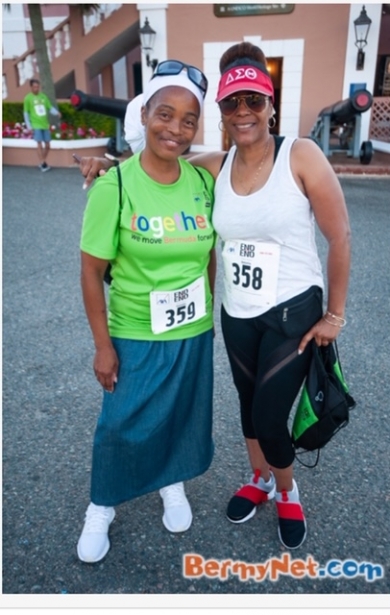 Below are a few pictures taken during the event. I'm already looking forward to next year!"