We are pleased to announce the opening of the JK Community Farm. A JK Moving Services signature charitable initiative that will have a lasting and healthy impact on struggling families within the Loudoun community and beyond. The farm is a philanthropic effort designed to alleviate hunger by growing and harvesting crops and livestock.  JK will donate them to nonprofits, including Loudoun Hunger Relief, which will also serve as the distribution partner to other nonprofits.
"We are part of this community; and I know that poverty is a very real issue here. I wanted to develop a charitable effort that meets critical community needs in a very tangible way," explained JK President and CEO Chuck Kuhn. "Using my land to grow and share food is a way we can contribute and address hunger issues by providing healthy foods throughout the year."
How it all started
Chuck Kuhn founded JK Moving Services on two fundamental values: care and respect. Today, JK is the largest owned and operated, independent moving company in North America. In its communities and business practices, JK employees live out the core values of care and respect every day, to make the world a better and healthier place for all. Through donations, in-kind service, and volunteering, JK and its employees support direct services to people in need. Providing accessible education for people of all ages and backgrounds. For instance, JK provides assistance to U.S. service members, military families, veterans, and first responders.
Why a farm?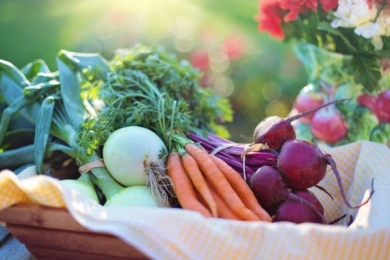 Interested in making meaningful investments, Chuck recently purchased land in Purcellville, VA to house the JK Community Farm. At first, four acres will be used to grow more than 16 types of vegetables.  Such as sweet potatoes, potatoes, lettuce, corn, kale, and more. More acres will be added for growing in years to come.
In addition, the Kuhn family is donating beef, pork, and venison. JK Community Farm expects to donate over 53,000 pounds of crops as well as meat in its first year. The retail value of the year one donation is approximately $235,000.
"The JK Community Farm is an innovative initiative.  We are happy to be working with the JK team to provide more fresh produce and locally farmed meats to those we serve and to our partner pantries. A diet of shelf-stable foods, common to emergency food pantries, fills stomachs but does not lead to healthy outcomes. We've increased our fresh produce storage and distribution capabilities drastically.  We look forward to being able to share the JK Community Farm's produce and meat donations," explained Jennifer Montgomery, Executive Director, Loudoun Hunger Relief.
Education classes too
In addition to sharing meat and fresh produce, the JK Community Farm is also planning to host education classes for nonprofits about cooking, gardening, and nutrition. The Farm will also provide volunteer opportunities for JK Moving Services staff and others in the community. A CSA for JK Moving and JK's sister company, CapRelo, employees and workforce training for nonprofit partner clients.
More than 14,000 Loudoun residents suffer from food insecurity. In fact, nearly half of the people served at food pantries are children. They also serve senior citizens, the ill and disabled, those who are homeless, and the working poor. Nearly 70% of adults who receive food are employed at least part time. Having sources of fresh food are important to these organizations' work to end hunger.